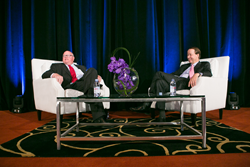 New York, NY (PRWEB) July 08, 2016
The Toigo Foundation (Toigo) hosted its 15th Annual Gala on Thursday June 9, 2016 at the Waldorf Astoria in Manhattan. Toigo was pleased to once again welcome nearly 1,000 guests to celebrate the merits of diversity and inclusion in the financial services industry and the impact of the Foundation's work.
The evening's theme – Bringing Diversity to Life – illuminated key individuals and organizations who exemplify the spirit of inclusion in their work, their community and in their advocacy. Proceeds from the event support the non-profit's programming, including merit awards to Toigo Fellows and leadership development curriculum for the next generation of finance leaders. This year, Toigo honored two of its distinguished Alumni with the Blazing Trails award: Jose Minaya - Senior Managing Director and President, TIAA Global Real Assets and Verdun S. Perry - Senior Managing Director and Co-Head, Strategic Partners Fund Solutions, Blackstone. The 2016 Institutional Trailblazer award went to Joel Wittenberg and Vice President and Chief investment Officer, W.K. Kellogg Foundation and The W. K. Kellogg Foundation demonstrating the merits and promotion of diversity within their workforce and their prominent voice in the community.
The Toigo Foundation was founded in 1989 to address a serious dearth of opportunities for minority professionals to advance into positions of leadership in the finance industry. Through its MBA Fellowship and a suite of post-graduate career programs, Toigo is not only creating access to those opportunities, but also dispelling the myth that minority talent does not exist. "We talk a lot about the war for talent in our sector and industry. I'm here to tell you that in Toigo you have one of the best organizations and resources available to identify that talent and to attract that talent," Jose Minaya shared with the audience while accepting his award.
The right to learn and lead, mentor and invest, to launch and grow business belongs to every individual, equally and unequivocally. Toigo is resolute in its mission to make these rights a reality for the next generation of talent. Verdun Perry shed light on the subject in his remarks: "Diversity does not equal community service. If you want great returns, there are people of color, there are women and other diverse professionals – they can provide you that. You want to service a client, come up with a great solution? They can do that as well. Diversity should not equal compromise….and it doesn't."
The highlight of the evening was a scintillating fireside chat between Britt Harris (Teachers Retirement System of Texas) and Tony James (Blackstone) where the audience had opportunity to listen in on a conversation between longtime friends on subjects ranging from investment and market trends, to leadership, to politics.
About the Toigo Foundation
The Toigo Foundation ("Toigo") was founded in 1989 to encourage and support exceptional minority students to become the future financial leaders in the global economy. Through the Toigo fellowship program, the organization has created a highly-regarded platform for leadership development that establishes for our participants a high standard for academic and professional achievement, demonstration of ethical leadership, and a passion for social responsibility. Today, Toigo has honored nearly 1,200 young professionals with the distinction of Toigo Fellow and membership into one of the most dynamic professional networks in the U.S.