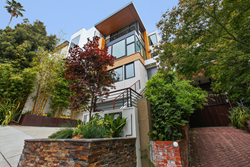 Emphasis on natural light is what makes a Maniscalco, a Maniscalco.
San Francisco, CA (PRWEB) July 07, 2016
Paragon Real Estate Group, a leading and locally owned and managed real estate company in the Bay Area announced its new listing at 350 Hill Street in Dolores Heights, San Francisco, CA. The three-level, four-bedroom, 3.5 bath, contemporary home is a locally-celebrated creation by luminary architect, John Maniscalco.
The property's current owner is art connoisseur, Rowland Weinstein, owner of Weinstein Gallery, a non-objective and surrealist art gallery located at 444 Clementina Street in San Francisco. Weinstein acquired the home in May 2012 for its iconic Maniscalco traits.
"Emphasis on natural light is what makes a Maniscalco, a Maniscalco. The use of light in this home is extraordinary," said Rowland Weinstein. "Every detail is perfect. Not overdone, just harmonious with all the elements of the home."
Originally built in the 1970s, the applauded remodel, titled The Hill Street Residence, was one of ten homes featured on the AIA House Tour in 2011. As described for the 2011 tour, "On a steeply sloping site in Dolores Heights, this complete rebuild transforms a small 1970's house into an airy modern home with seamless indoor-outdoor transitions."
"There is an incredible 'openness' to the space," said Weinstein. "It almost feels like the home just pours out into the city."
According to the Maniscalco's notes from the AIA tour. "The exterior landscape crosses over into the interior corridor…framing urban views in the front of the house, 'the tree tops, the simple Victorians, and as much sky as we could carve out,' further emphasizes the intimate and distant spatial relationships that connect this airy modern home high on a hill to the melodious San Francisco sites below."
The last time the 3,400 square foot home traded was May 2012 for $3.25 million. Weinstein contracted Maniscalco's contractors and vendors to perform cosmetic restorations to preserve the architect's original design. However, Weinstein made one notable enhancement to the property: approved plans and permits for a roof deck.
"Securing approvals for a roof deck was a two-year labor of love," said Weinstein. "The view will delight and surprise everyone who goes up there. It is one of the greatest views of San Francisco."
The home is listed for $4.995 million. Paragon Real Estate Group agents Laura Taylor and Mike Murphy exclusively represent the ownership. For more information, please visit http://www.350-hillstreet.com, or contact ltaylor(at)paragon-re(dot)com.
About Paragon Real Estate Group
Paragon is a locally owned and managed real estate company in the Bay Area that conducts business across all market segments – residential and luxury home sales, investment and commercial property sales and leasing, new home sales and rentals. Having completed its 11th year in business, Paragon currently brokers over $1.9 billion in annual Bay Area real estate sales.
Visit: http://www.Paragon-RE.com , 1400 Van Ness, San Francisco, CA. 94123. 415-738-7000