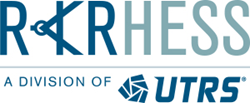 Becoming a division of UTRS has strengthened RKR Hess and magnified its leadership in innovative engineering.
East Stroudsburg, Pa. (PRWEB) July 08, 2016
Prominent Pennsylvania engineering firm RKR Hess is continuing its long history of exemplary work as a division of Universal Technical Resource Services, Inc. (UTRS).
The assets of RKR Hess Associates, headquartered in East Stroudsburg, were purchased by UTRS in 2012 to further strengthen and grow both entities. The asset agreement included contracts in effect at the time of the sale, however, RKR Hess Associates retained rights to the name and some contractual obligations. In 2016, the owners of RKR Hess Associates officially dissolved the entity. This dissolution in no way impacts the current state of RKR Hess, which continues its important and impactful work daily as a division of UTRS and continues to grow as a leader in the engineering field.
"Becoming a division of UTRS has strengthened RKR Hess and magnified its leadership in innovative engineering," said Samuel D'Alessandro, Director of Engineering Services for RKR Hess, a division of UTRS. "In the last 4 years, RKR Hess has made leaps and bounds in the Poconos and beyond, bringing quality services to a large list of clients. We look forward to continuing to help the region reach its goals."
RKR Hess has seen tremendous success as one of the largest engineering firms in the Poconos. Since becoming a division of UTRS, RKR Hess received the 2012 Outstanding Civil Engineering Achievement Award and, most recently, received the American Society of Civil Engineering Project of the Year for work on the Camelback Resort indoor waterpark. RKR Hess, a Division of UTRS, has established itself as an expert in civil and environmental engineering, and as a reliable partner for both public and private clients.
About RKR Hess Associates, a Division of UTRS
With an 80-year history of providing the highest quality engineering consulting services to both public and private sectors, RKR Hess has a tradition of excellence and integrity. RKR Hess Associates, Inc.'s assets were purchased by Universal Technical Resource Services, Inc., in September 2012. RKR is the combination of Edward C. Hess Engineering and Rinker, Keifer and Rake Architects. Our cadre of professionals includes Professional Engineers, surveyors, land planners and environmental scientists. Together with UTRS personnel, our professionals can provide the full gamut of engineering and planning services to meet all our clients' needs. Our services range from dam inspections to storm water management plans to design and construction observation services for single family lots, residential developments and industrial facilities. We take pride in our work and our ability to provide our clients with solutions on time and within budget.