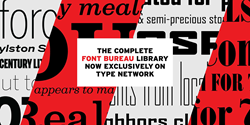 New York, NY (PRWEB) July 08, 2016
Font Bureau, a leading digital type foundry, announced today that its retail typeface library is now available exclusively at Type Network.
"Our font library is no longer for sale at Fonts.com, MyFonts, or FontShop," said David Berlow, president of Font Bureau.
These retail sites, now owned by Monotype Imaging, began reselling Font Bureau fonts in the infancy of digital type, soon after the firm was founded by Berlow and Roger Black in 1989. Font Bureau's move to Type Network is in line with its mission to remain independent and to collaborate with the best designers.
Type Network, which launched June 1, offers font licenses for all media from independent type designers and foundries. Popular Font Bureau typeface families available only on Type Network include Agency FB, Amplitude, Benton Sans, Bureau Grot, Farnham, Interstate, Nobel, and Whitman.
Some of today's most innovative type designers license their retail font collections exclusively from their foundries on Type Network, including Matthew Carter (Big Caslon, Miller); Petr van Blokland (Productus, Proforma); and Cyrus Highsmith (Antenna, Salvo).
"Type Network has just two constituencies: type designers and type users," Berlow said. "We're proud to join a growing list of founders who have Type Network as their exclusive retail distributor."
Type Network is a private company owned by type designers.
About Font Bureau
Font Bureau is a digital type studio and one of the leading foundries for typeface design. For more than 25 years, Font Bureau has designed custom typefaces for almost every major American publication. Its retail library includes some of the most celebrated fonts on the market. The firm was founded in 1989 by David Berlow and Roger Black.
About Type Network
Type Network is a new model for type design, development, licensing, and use. It was built in response to the often complex and ever-changing requirements of good typography and smart type users. A private company owned by type designers, Type Network is focused on its mission—to find and support the best type and publish it for the best designers.