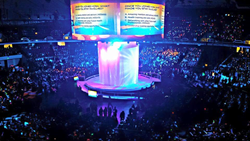 Southlake, TX (PRWEB) July 07, 2016
HOSA-Future Health Professionals, the largest international organization for middle school, high school and postsecondary/collegiate students with an interest in the health professions, gathered together last week in Nashville, Tennessee for the 2016 International Leadership Conference. Over 9,200 delegates were in attendance from the United States, American Samoa, Canada and Puerto Rico. Conference highlights included 57 health-related competitive events, 147 educational workshops and a special for HOSA's 40th Anniversary celebration.
HOSA was pleased to unveil its new Hall of Fame. The HOSA Hall of Fame was created to honor and recognize individuals and companies who have rendered outstanding service to HOSA, health and biomedical science education and the health industry. HOSA's former Competitive Events Directors, Honorary Life Members, Past National Presidents, Past HOSA, Inc. Chairmen made up the inaugural class of HOSA Hall of Fame.
In addition, HOSA recognized three outstanding corporate partners, CVS Health, Deloitte and HCA-Hospital Corporation of America, for their significant contributions to HOSA over the last 40 years. Partners inducted at the Opening Session included Ernie DuPont, Senior Director of Workforce Initiatives, CVS Health, represented by Charnita Young; Dr. Bruce Green, Director and Chief Medical Officer, Deloitte and Chair of the HOSA-100 National Advisory Council; Jennifer Berres, Vice President of Talent Management, and Scott Waldrop, Director of Operations, for HCA-Hospital Corporation of America.
HOSA is indebted to these corporate partners for their continued support of HOSA-Future Health Professionals.
For more information about HOSA's International Leadership Conference, visit ilc.hosa.org.
About HOSA
HOSA–Future Health Professionals is the largest international organization operating in schools for students enrolled in health science and biomedical sciences programs and serving those interested in pursuit of careers in health and biomedical professions. HOSA's purpose is to develop leadership and technical competencies through a program of motivation, awareness and recognition, which is an integral part of the instructional program. This student-led organization provides opportunities for students to practice and refine their academic, technical, leadership and teamwork skills to achieve seamless transition from classroom to career.
In 2015-2016, HOSA membership exceeded 202,000 members in 4,200 chapters in 53 state associations, including Puerto Rico, American Samoa, Canada, Italy and Mexico, with 48% ethnic diversity. Since 1976, HOSA has served 2.4 million students interested in pursuing health professions. HOSA is the vital pipeline for the health industry—an industry that is projected to add 5 million jobs by 2022, growing faster than all other professional sectors.
http://www.hosa.org
For Additional Information Contact:
Bobby Crandall
bobby(dot)crandall(at)hosa(dot)org
972.874.0062