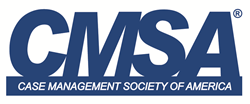 Little Rock, AR (PRWEB) July 07, 2016
At CMSA's 26th Annual Conference & Expo in Long Beach, the Case Management Society of America (CMSA) National Board of Directors and executive team met to discuss the association's strategic and operational needs. The discussion focused on how best to support their members, subscribers, participants, and chapters, as well as the need for a greater focus on government affairs both on national and state levels. A significant outcome of this gathering is the consensus that a re-structuring of CMSA leadership will be a significant benefit to the membership and to the overall operational structure of the association.
The CMSA National Board of Directors, in partnership with Consulting Management Innovators (CMI), unanimously approved the continued management of the association by CMI, as well as CMI's appointment of Kathleen Fraser MSN, MHA, RN-BC, CCM, CRRN, to serve as CMSA Executive Director beginning on August 1st, 2016. Cheri Lattimer, RN, BSN, CMSA's current Executive Director, will transition her focus to serve as CMSA's Chief Policy Officer. Ms. Fraser will resign her board position as CMSA Past President in order to serve the board as the Executive Director. CMSA's current President, Mary McLaughlin-Davis, DNP, MSN, RN, CCM has appointed Mary Beth Newman, MSN, RN-BC, CCP, CCM, CHCQM, a CMSA Past President to serve out the remainder of Ms. Fraser's term.
When asked about the appointment, Ms. Fraser remarked, "I am so honored and excited to continue the work of increasing support to our membership and their chapters. We know case management is the true healthcare reform and it is exciting to continue the quest of educating all stakeholders, to this fact."
CMSA President, Mary McLaughlin-Davis, shared, "CMSA's leaders believe their future is about strong and continued growth in membership and public policy. Moving forward, the board sees only success with Kathleen Fraser and Cheri Lattimer working side-by-side along with the CMI staff to accomplish CMSA's objectives and strategic initiatives. Both Kathy and Cheri have a strong commitment to the CMSA membership and will drive the initiatives necessary to keep CMSA the vital organization needed in our changing health arena."
"The time had come for me to choose between two major initiatives: membership and public policy. Although committed to both initiatives, CMSA's growth in these areas require two full time leaders. I am looking forward to continuing to represent CMSA, the members, and community in Washington, DC and in their states through other public affairs initiatives. I believe now is the time to show the full value-add that case managers bring to the U.S. health care system, to which I am totally committed and passionate about," shared Cheri Lattimer.
About the Case Management Society of America (CMSA)
Established in 1990, the Case Management Society of America is the leading non-profit association dedicated to the support and development of the profession of case management. CMSA serves more than 30,000 members, subscribers and participants, and 75 chapters through educational forums, networking opportunities, legislative advocacy and established standards to advance the profession. For more information, visit http://www.cmsa.org or follow CMSA on Twitter @CMSANational.
About Consulting Management Innovators (CMI)
Consulting Management Innovators (CMI) is an association management company providing consulting and management services to evolving healthcare associations in the United States. Our Innovators work to deliver clients the development, growth and improvement necessary to thrive in the rapidly changing, modern business world. We are proud to provide services to the vibrant associations of Case Management Society of America and Case Management Foundation. To learn more, follow CMI on Twitter @CMInnovators or visit http://www.cm-innovators.com.