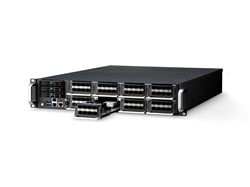 "The latest Intel® Xeon® processors offer important improvements over their predecessors," said Yong Luo, general manager of ADLINK's Embedded Computing Product Segment.
San Jose, CA (PRWEB) July 07, 2016
ADLINK Technology, Inc., a leading global provider of embedded building blocks and edge computing platforms that enable the Industrial Internet of Things (IoT), today introduced the CSA-7200 Network Appliance and MCS-2080 dedicated Media Cloud Server featuring the Intel® Xeon® processor E5-2600 v3/v4 product family (codename Broadwell-EP) and Intel® Xeon® processor E3-1500 v5 product family (codename Skylake-H).
These latest products are based on ADLINK's Modular Industrial Cloud Architecture, an industrial-grade delivery system designed to support the native virtualization requirements for software-defined networking (SDN) and network function virtualization (NFV), while integrating a wide range of the latest hardware acceleration technologies to boost the processing of network packets and video streams.
"The latest Intel® Xeon® processors offer important improvements over their predecessors," said Yong Luo, general manager of ADLINK's Embedded Computing Product Segment. "The Intel® Xeon® Processor E5-2600 Product Family features an increased core count, a multi-threaded design and the most robust CPU performance to date, while the Intel® Xeon® processor E3-1500 product family provides the best cost per channel by using an integrated Intel® GT4e GPU and Intel® Media Server Studio middleware to improve video processing performance without the need for an extra GPU card. Instead, the integrated GPU handles video processing tasks, making the CPU available to process analytics."
The CSA-7200 2U 19" network appliance offers up to 64x 10GbE SFP+ ports with I/O intensive architecture and flexible storage interfaces, including SATA, PCIe and M.2. The appliance is highly scalable with eight Network Interface Modules, offers advanced chassis management and is Intelligent Platform Management Interface (IPMI) v2.0 compliant. The 2U 19'' rackmount form factor is ideal for communications infrastructure deployments and can be housed in platforms ranging from single socket all the way up to eight socket racks and cater to high-bandwidth communications applications that require large amounts of cores and memory working in parallel to accomplish multiple tasks and workloads. Target applications include networking, communications, security and other data center solutions where ruggedness is critical and compute requirements are intense.
The MCS-2080 also comes in a high density, 2U 19" form factor with modular compute and switch nodes scaling up to 16 systems (MCN-1500 compute node) or down to four systems (MCN-2600T compute node), with hybrid combinations supported. The MCS-2080 supports Intel® Quick Sync Video (GT4e graphics) with hardware assisted H.265/VP9 transcoding and offers dual redundant switch nodes, each providing 16x 1G internal links to compute nodes and 4x 10G uplinks. Interfaces include USB 2.0, HDMI and 8x PCIe x8 slots to meet expansion requirements. Onboard storage of 2x mSATA slots supports SSD modules up to 512GB.
The MCS-2080 is an Application-ready Intelligent Platform (ARiP) with MediaManager software providing enriched features above those of the Intel® Media Server Studio, and can be used as an end-to-end video server prototype solution to speed up product development. The MCS-2080 also supports the IPMI 2.0 with Serial over LAN (SOL) and a web-based management interface and offers adaptive fan speed and intelligent power supply monitoring. The MCS-2080 media server targets video applications such as surveillance with video analytics, video conferencing used in remote education & healthcare environments, and video transcoding for content delivery/broadcasting.
For more information on our Modular Industrial Cloud Architecture-based networking and communications offerings, please visit http://www.adlinktech.com.
ADLINK Technology
ADLINK Technology is enabling the Internet of Things (IoT) with innovative embedded computing solutions for edge devices, intelligent gateways and cloud services. ADLINK's products are application-ready for industrial automation, communications, medical, defense, transportation, and infotainment industries. Our product range includes motherboards, blades, chassis, modules, and systems based on industry standard form factors, as well as an extensive line of test & measurement products and smart touch computers, displays and handhelds that support the global transition to always connected systems. Many products are Extreme Rugged™, supporting extended temperature ranges, shock and vibration.
ADLINK Technology is a Premier member of the Intel® Internet of Things Solutions Alliance. The company is also active in several standards organizations, including PCI Industrial Computer Manufacturers Group (PICMG), PXI Systems Alliance (PXISA), and Standardization Group for Embedded Technologies (SGeT).
ADLINK is a global company with headquarters in Taiwan and manufacturing in Taiwan and China; R&D and integration in Taiwan, China, the US, and Germany; and an extensive network of worldwide sales and support offices. ADLINK is ISO-9001, ISO-14001, ISO-13485 and TL9000 certified and is publicly traded on the TAIEX Taiwan Stock Exchange (stock code: 6166).
# # #
Intel and Xeon are registered trademarks of Intel Corporation in the United States and other countries.