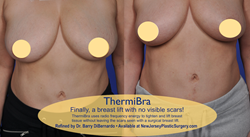 ThermiBra uses radio frequency energy to tighten and lift the breasts without leaving visible scars.
Montclair, NJ (PRWEB) July 07, 2016
"Sagging breasts can cause a woman to look and feel older whether she is wearing clothes, a swimsuit or nothing at all," says Dr. Barry DiBernardo of New Jersey Plastic Surgery. "Although several variations of surgical breast lift techniques are available, all require incisions which leave visible scars. Now the ThermiBra procedure offers an attractive minimally invasive option. ThermiBra uses radio frequency energy to tighten and lift breast tissue without leaving the scars seen with a surgical breast lift."
"ThermiBra is appropriate for women with moderate "ptosis" or sagging of the breasts, eliminating or delaying the need for a more invasive breast lift," says Dr. DiBernardo. "ThermiBra can also correct breast asymmetry."
ThermiBra was refined by Dr. DiBernardo. It uses a device called "ThermiRF" which produces thermal (radio frequency) energy to stimulate the production of new collagen and improve the skin's tightness. "ThermiBra is painless and leaves the skin unmarred," says Dr. DiBernardo. "A few tiny entry points are made in the areolas and a small probe is inserted under the skin. The probe delivers controlled radio frequency energy to the targeted areas, causing the skin to shrink immediately."
"A ThermiBra treatment takes about an hour and  is done under local anesthesia so the patient can quickly return to her normal activities. Patients start to see results immediately after treatment with more noticeable results appearing within two to three months; full results should be visible in six to 12 months."
"The best candidates for a breast lift with ThermiBra want realistic results but do not wish to to undergo a surgical procedure," says Dr. DiBernardo. "Candidates should be in good general health and have realistic expectations for the outcome."
Dr. Barry DiBernardo is the Medical Director of New Jersey Plastic Surgery in Montclair, NJ, past President of the New Jersey Society of Plastic Surgeons (2005-2006), an Associate Clinical Professor in Plastic and Reconstructive surgery at UMDNJ and is currently is on the board of directors of the Aesthetic Surgery Education and Research Foundation.
Website: http://www.newjerseyplasticsurgery.com For more information call 973-250-2996.