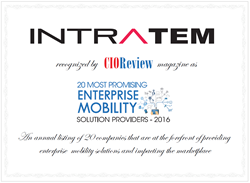 We're always proud to be a part of our clients' success and will continue to pursue the highest standards of service for our customers.
Los Angeles, CA (PRWEB) July 08, 2016
Intratem, a performance based Mobility as a Service (MaaS) provider which includes Managed Mobility Services (MMS) and Wireless Expense Management (WEM), today announced that it was named on the list of '20 Most Promising Enterprise Mobility Solution Providers 2016', which is developed by CIOReview.
CIOReview selected Intratem in recognition of the company's specialties in wireless expense management/optimization/audit, wireless device management, end-user support, wireless expense reporting, and its contingency-based business model, which guarantees performance.
"The companies selected for our 20 Most Promising Enterprise Mobility Solution Providers 2016 list are an elite group of companies whose products and solutions are changing their respective industries," said Jeevan George, Managing Editor of CIOReview. "We are proud to feature Intratem in this edition for its range of revolutionary solutions that is setting a new benchmark in the enterprise mobility arena."
Intratem's mission is to provide its clients not only with savings, but with peace of mind. It accomplishes this by adhering to strong values and combining over a decade of industry expertise with integrity and diligence. "We are honored to be among this elite group of companies," said Dimitry Malinsky, Intratem CEO and Co-Founder. "We're always proud to be a part of our clients' success and will continue to pursue the highest standards of service for our customers."
About CIOReview
Published from Fremont, California, CIOReview is a print magazine that explores and understands the plethora of ways adopted by firms to execute the smooth functioning of their businesses. A distinguished panel comprising of CEOs, CIOs, IT VPs including CIOReview editorial board finalized the "20 Most Promising Enterprise Mobility Solution Providers 2016" in the U.S. and shortlisted the best vendors and consultants. For more info: http://www.cioreview.com/
About Intratem
Based in Los Angeles, CA, Intratem provides Mobility Management Services (MMS) in the field of Enterprise Mobility Management (EMM) across numerous industries. Since its inception in 2004, it has recognized the remarkable impact mobile devices have on business. Its main objective is to facilitate a stress-free and cost-effective mobile business environment for its clients. For more information, visit: http://www.intratem.com/