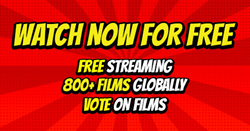 More people will attend the Fan Boy Film Festival than the top 5 films festivals in the world combined
(PRWEB) July 12, 2016
Today, the Fan Boy Film Festival unveiled a pioneering digital initiative that will give film enthusiasts the chance to view features, shorts and documentaries for free through its web-based platform. More than 800 films from filmmakers around the world will be available during the festival's run.
"Fan Boy prides itself as being a global film festival not limited by geography, language, screening schedules, or hotel accommodations. Anyone can participate from anywhere in the world. It's great for anyone who ever wanted to attend a film festival, but couldn't because of some restricting factor like time, money or location," says co-founder, Michael Kanik.
To watch the films, interested viewers simply have to register for a free account at http://www.FanBoyFilmFestival.com. The innovative model was conceived to put power into the hands of fans and filmmakers.
"The festival will launch July 15 and run through August 26, 2016. We're excited because this is our first year and our online film community has grown quicker than we ever imagined. More people will attend the Fan Boy Film Festival than the top 5 films festivals in the world combined," says Michael.
Contest submissions opened on March 15, and artists from around the world were invited to submit films. This year's contest introduces a pioneering category for films created on a smartphone or tablet, with the winner receiving a cash prize of $5,000. "Films are no longer created on traditional equipment and we felt like we should recognize and reward that. Few festivals do and we are not a typical film festival. We're forward thinking," says Michael. Other categories include a MEME Contest and Best Film, with cash prizes of $1,000 and $10,000 respectively. "Who doesn't love a good meme? And who doesn't like a thousand dollars? It's a fun add-on to our festival," says a smiling Michael. All prizes are awarded based solely on the votes of registered Fan Boy users.
"The festival embraces filmmakers who are passionate and take everything they've got and put it into their films," says Michael. "Our motto is films are great regardless of subjective metrics and that the fans should be the judges. That is why cash prizes are awarded solely on the votes of registered site users. Fan Boy puts the decision in the hands of fans themselves and not stuffy judge panels," adds Michael. Once the festival concludes, filmmakers will also have the option to house their films on the Fan Boy site and earn revenue from their new dedicated fan base.
Film formats include shorts, features, trailers, documentaries, web series, music videos, student films, and original trailers in the following genres: drama, comedy, fantasy, horror, action, animation, superhero, fan film, science fiction, fandom-related genres and many more.
About Fan Boy Film Festival
Fan Boy Film Festival's mission is to lessen the gap between artists and fans by connecting filmmakers with fans, streamlining the festival process, and helping artists to maximize their exposure to new audiences. Fan Boy unites each phase of the over-complicated movie industry by absorbing the functions of middlemen and eliminating redundancy.
Fan Boy is an online festival for filmmakers who want to share their art with fans and interact with other filmmakers. Launched by a team of film fanatics and purveyors of all things pop culture, the festival is excited to unleash a wide variety of new and interesting content to their online community without charging a submission fee for filmmakers to participate.
For more information on the Fan Boy Film Festival, please go to http://www.FanBoyFilmFestival.com
# # #
Media Contact:
Michael Kanik
Mkanik(at)fanboyfilmfestival(dot)com
201-683-1170