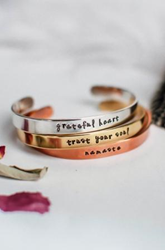 I can now better connect with women, share the Zenned Out lifestyle through the blog, and make shopping easier and more comprehensive. Each of my jewelry designs is thoughtful- and the website is an extension of that.
PHOENIX (PRWEB) July 07, 2016
Zenned Out, a Tempe, Ariz.-based artisan jewelry company that creates handcrafted and custom designs to inspire and empower women, announced today the launch of its new e-commerce site and its new brand image. The independent e-commerce site is a user-friendly shopping experience that features Zenned Out's products in its entirety, including more than 350 designs, pieces, and jewelry collections that are available to consumers and retailers for purchase.
Previously sold only online through Etsy, Zenned Out is now sold on its independent e-commerce site at http://www.zennedout.com to offer a more personalized and accessible shopping experience for both consumers and retailers. The new site allows shoppers to quickly and easily sort and filter Zenned Out products based on styles, quotes, prices, and other top product categories to help shoppers find the design that is best for them. It also provides faster, and comprehensive customizing options and flexibility for retail customers, up-to-date inventory and product options, more secure browsing and privacy, as well as increased customer service features and shopping support from Zenned Out's staff. Shoppers can also purchase Zenned Out gift cards to give the gift of inspiration, and browse Zenned Out's blog for a lifestyle resource on the new site.
For wholesalers and retailers, the website features a retail portal allowing store owners and decision makers to securely log on and access their personalized web portal. The private login and personalized portal adapts to recent purchases, stock and inventory needs, and provides convenient filtering for real-time product data and tailored user- shopping experience.
Shoppers will also enjoy Zenned Out's fresh look on its e-commerce site, unveiling the company's new branding and image, including logo, color palette, brand icons, and typography. The new image captures the company's maturity and long-term growth and vision. Since launching Zenned Out in 2011, Cassie Uhl, the founder and owner of Zenned Out, has grown her business into a lifestyle for consumers, which is reflected in Zenned Out's new mature look.
"I'm grateful to have the creative freedom to share my creativity and spirituality with like-minded women," said Cassie Uhl, founder and owner of Zenned Out. "I can now better connect with women, share the Zenned Out lifestyle through the blog, and make shopping easier and more comprehensive. Each of my jewelry designs holds a profound meaning with thoughtful, deep and spiritual messages that are stylish and inconspicuous to empower women and celebrate their inner goddess every time they put their jewelry on- and the website is an extension of that."
Since its launch, Zenned Out has experienced rapid growth and a loyal following including more than 34,000 social media followers, sales exceeding $1 million, and an expansion in consumer demographics, resulting in the growth of its new brand image.
Each Zenned Out piece is handmade in Tempe, Ariz., using locally sourced and sustainable products to make a difference in the community. Zenned Out is the alternative to mass production, and is the lighter side of gift giving; Uhl believes in keeping her craft purposeful to give consumers the purchasing power that makes them feel good, not guilty. Zenned Out is one of the only sustainable and handcrafted jewelry companies that offers fully custom design options for shoppers, with more than 150 different fonts and options to choose from to create a personalized, handcrafted jewelry design.
Zenned Out and its custom designs are sold online at http://www.zennedout.com and in more than 30 retailers throughout the U.S., continually expanding its retail partners.
To learn more about Zenned Out, visit http://www.zennedout.com or call 480-755-2151.
ABOUT ZENNED OUT:
Zenned Out, a Tempe, Ariz.-based handcrafted jewelry company, designs inspirational jewelry to empower women to become engrossed in what they love. Founded by Cassie Uhl, Zenned Out is women- owned and operated, and is one of the only jewelry companies that use aluminum to create its jewelry. Using locally sourced products and sustainable practices, including aluminum to protect the Earth and recycled packaging products, Zenned Out strives to be a positive energy source for women creating tangible, powerful, and fashionable designs that promote mindful living. Deeply rooted in yoga and spiritual teachings, Zenned out has more than 300 pieces designed to mix-and-match with spiritual messages, mantras, and custom quotes.