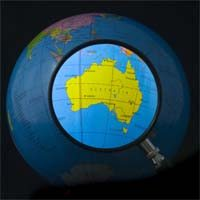 Aboriginals had ...the highest mortality rate internationally.
Raleigh, NC (PRWEB) July 07, 2016
A new study conducted by scientists across Australia finds alarmingly high rates of malignant mesothelioma among Aboriginal people who live in the vicinity of the old Wittenoom asbestos mine. Surviving Mesothelioma has just posted a story on the new research. Click here to read it now.
Researchers with the Western Australian Department of Health as well as a number of Australian universities evaluated mesothelioma incidence and mortality rates in both Aboriginal and non-Aboriginal people over the past several decades.
"Aboriginals had considerably higher 10-year incidence rates than non-Aboriginals and, when compared to world populations, the highest mortality rate internationally," says lead study author Peter Franklin who works with the School of Population Health at the University of Western Australia.
The researchers believe the high numbers can be attributed primarily to lingering contamination caused by the Wittenoom mine, which was once a major world supplier of crocidolite or "blue" asbestos.
"These disturbing study results are just another example of the deadly legacy of asbestos, one of the world's primary causes of preventable death," says Alex Strauss, Surviving Mesothelioma's Managing Editor. "Unfortunately, the people of Western Australia aren't the only ones living with the deadly aftermath of asbestos mining."
To read the details of the new study and find out more about the potential dangers posed by decommissioned mines like Wittenoom, see Australian Aboriginals Have World's Highest Mesothelioma Rate, now available on the Surviving Mesothelioma website.
Franklin, P, et al, "Incidence of malignant mesothelioma in Aboriginal people in Western Australia", July 3, 2016, Australian and New Zealand Journal of Public Health, July 3, 2016, Epub ahead of print, http://onlinelibrary.wiley.com/doi/10.1111/1753-6405.12542/abstract