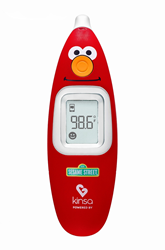 San Francisco, CA (PRWEB) July 20, 2016
Today, Kinsa (http://www.kinsahealth.com) announced the debut of the Elmo Smart Ear Thermometer and app, which combines temperature readings with symptom tracking and actionable next steps based on age and key health indicators. Enhancing the experience, and available exclusively through Kinsa's free thermometer companion app, are empathetic words from Sesame Street's Elmo, letting kids know, among other encouragements, that he is "sorry they aren't feeling well," and to "feel better soon."
"Helping families drives every decision we make as a company," says Inder Singh, founder and CEO of Kinsa. "And there's no brand in the world that parents and kids trust more than Sesame Street. We are thrilled to work together to make caring for sick children easier by offering both guidance and comfort right in their moment of need."
"Some of the most challenging times for both kids and caregivers are when a child isn't feeling well," said Gabriela Arenas, Vice President, Licensing, North America. "We're pleased to work with companies like Kinsa, who like us, are committed to providing support to keep families healthy and happy."
Kinsa brings modern design and intelligence to the world's most common medical device, making temperature taking easier for parents and more enjoyable for children. Kinsa's technology, design and mission are integrated across key features of the Elmo Smart Ear Thermometer. While most traditional ear thermometers are sterile-looking and have numerous buttons, settings and requirements, Kinsa's Elmo Smart Ear Thermometer has only one button, one setting, an easy-to-clean design that eliminates the need for probe covers and a big, backlit LCD screen for ease of use at any time of day or night.
Kinsa's Elmo Smart Ear Thermometer is $59.99 and available for order starting today from its website. It will be on Amazon and on shelves in top Target stores nationwide as part of their new "connected baby" initiative starting in August 2016.
For more information on the company or the new Kinsa Smart Ear Thermometer, please visit Kinsa at http://www.kinsahealth.com. For media inquiries, please contact Kimberly Angell of Wish Public Relations at kim dot angell at wishpr dot com or (415) 471-7272.
About Kinsa
Kinsa's smartphone-connected thermometers bring peace of mind to parents and health-conscious consumers by quickly and accurately recording sickness details and providing guidance on what to do next. Kinsa shows common illnesses that are circulating within communities, and is advancing efforts to create a real-time health map that will detect potential epidemics before they spread. Kinsa was awarded the Grand Prize in Medical Innovation by the Cleveland Clinic, and is available in nearly 7,000 retail locations in the US and Canada. Kinsa was founded in 2012 by Inder Singh, former EVP of The Clinton Foundation's Health Access Initiative. http://www.kinsahealth.com.