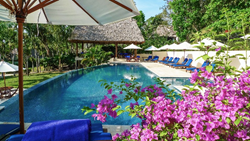 We're no longer 'Mother Nature's Best Kept Secret'
San Ignacio, Belize (PRWEB) July 09, 2016
The recent announcement from American Airlines that direct London to Belize flights will commence in November 2016 is good news for the growing number of travellers for whom the little Caribbean country has become a destination of choice, according to The Lodge at Chaa Creek.
Lucy Fleming, Chaa Creek's co-founding owner and its director of marketing and communications, said the new flights also reveal Belize's increasing worldwide popularity.
"Those of us who have been involved in Belize's tourism industry since its early days continue to be impressed by its steady growth, as shown by the continual increase in tourist arrivals and the number of services that cater to them.
"Each year it seems, new flights are being announced, and this latest news from American Airlines shows that major air carriers are confident that Belize will not only remain attractive, but will continue to grow. It's a vote of confidence for Belize," Ms Fleming, who is also a past president of the Belize Tourism Industry Association, said.
According to a July 4, 2016E Turbo News article, the direct flights from London will begin November 4 2016, with flights to Belize City four days a week on Friday, Saturday, Sunday and Monday, with morning and noon flights to London offered year round.
"American Airlines will introduce new afternoon outbound flights departing from London Heathrow (LHR), with a few hours' connection in Miami (MIA) onto Belize City (BZE), as well as new morning and midday inbound flights, again connecting for just a few hours in Miami" the article states.
The article also quotes Belize Tourism Board figures showing that 12,650 visitors from Britain arrived in Belize in 2015, representing an 11.4% increase over 2014.
Ms Fleming said the new American Air service should help boost those numbers, and that the timing is particularly fortuitous as it coincides with Belize's high season.
"Each year we see more and more people taking advantage of Belize's stunning beauty, excellent weather and many outdoor activities during the winter holiday season. Christmas and New Years celebrations have become very popular in Belize, and even traditional North American holidays like Thanksgiving are attracting more families looking to do something different.
"As an established family and couple's destination, Chaa Creek continues to host a growing number of weddings, honeymoons, second honeymoons and life events such as birthdays, anniversaries and family get-togethers; all of which are enhanced by the warm weather and pleasant amenities that include a fine dining restaurant, infinity pool, Hilltop Spa, and a conference centre perfect for hosting groups and events.
"With activities that include canoeing down the Macal River, horseback and mountain bike riding along a network of well maintained trails within a 400 acre private nature reserve, jungle safaris and river excursions, guided birding and nature walks and more, and with attractions like a Belize Natural History Museum, live butterfly exhibit, Maya medicinal plant trail and traditional Maya organic farm, there's something to do for people of all ages and interests," she said.
Ms Fleming added that the combination of more frequent flights, ease of travel, and holiday options such as Chaa Creek's all-inclusive Belize vacation packages help make the little country more attractive each year. The recent addition of a new all-inclusive Belize Cultural Grand Tour exploring diverse cultures and spanning the country from inland jungles, the Mountain Pine Ridge and Caribbean coastline is already renewing interest in the nation's landscape and people, she added.
"We're no longer 'Mother Nature's Best Kept Secret', as Belize used to be described, but we're still very much a unique, intimate, friendly and adventurous little county. We're just much easier to get to," Ms Fleming said.
The Lodge at Chaa Creek is a multi award winning eco resort set within a 400-acre private nature reserve along the banks of the Macal River in Belize.
ENDS