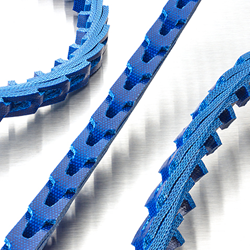 Fenner Drives is expanding on a proven concept in an effective way.
Manheim, Pa. (PRWEB) July 11, 2016
Combining excellent service and long life with exceptional inventory control, the new Wedge Link Belting from Fenner Drives yield major advantages in power transmission drive belt installation and maintenance. Incorporating the industry-proven narrow-wedge design, the 3V and 5V link belts now provide a way to get the benefits of link belting on wedge belt drives. Profiles include 3V, 5V, SPZ, SPA and SPB.
The new products' individual polyester/polyurethane link design enables belts to be made to any length on-site by hand, making it possible to drastically reduce inventories of fixed-length belts. This easy preparation can be done in short order because the modular method of construction eliminates the need for inventories of conventional belts. Assembly consists of simply reeling off the required lengths of belting and utilizing the twist-lock design to complete the new belt.
"With 3V and 5V profiles, Fenner Drives is expanding on a proven concept in an effective way," said Tyson Gabler, Fenner Drives Product Manager. "Maintenance engineers do not have to keep various lengths of belting in stock. The twist-lock design is made to length by hand and is great for captive and fixed-center drives." Most manufacturing facilities, he said, have both classic-type belts and wedge belts. The method of taking needed lengths from the box to create replacement belts makes it simple to use, and the new belts drop right in to existing equipment.
Converting to these products, Gabler said, saves substantial time and money on belt maintenance, repair and replacement wherever they are used.
This long-lasting upgrade to rubber wedge belts combines the performance of rubber with the additional cost saving benefits and is appropriate for a wide range of applications, including metals production, cement , mining and aggregate industries as well as forestry. These are the only link belts made with this narrow-wedge profile.
For further details on the time and money savings created by Power Twist Wedge Belts and other innovative products from Fenner Drives, call 1-800-243-3374 or email info(at)fennerdrives(dot)com.
About Fenner Drives
Fenner Drives designs, manufactures and sells an extensive range of customized solutions for power transmission, motion transfer, and conveying applications. With more than 200 employees and ISO 9001 certified production facilities in Manheim, Pa. and Wilmington, N.C., the company deploys broad manufacturing, technical and commercial expertise. Fenner Drives customers reflect a balance between OEM's, users and distributors that provides resiliency throughout the economic cycle. The company is a division of Fenner PLC, a world leader in reinforced polymer technology with more than 5,500 employees worldwide.