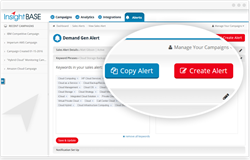 We set up Surge Alerts to notify individual salespeople whenever a target account surges in interest and they are finding it extraordinarily useful
WASHINGTON (PRWEB) July 08, 2016
A leading Account-Based Marketing (ABM) authority on prospect insight and demand generation today announced the release of its game-changing free product enhancement for the ABM sector.
True Influence has introduced InsightBASE Surge Alerts, an innovative product enhancement of its flagship intent signals platform. InsightBASE Surge Alerts change the way that B2B intent signals are received by Account Based Marketing stakeholders, and reflect the growth of the ABM sector by collecting and sending relevant data and signals directly to enterprises' B2B sales, marketing and customer relationship teams.
True Influence intends for these real-time email signal alerts to provide significant competitive advantage. They enable companies' marketing and sales-side departments to reach out to targets and increase and capture the momentum of product interest in target accounts at the time of heightened interest. InsightBASE Surge Alerts are available as a free enhancement to account holders and provide instant data in the form of company contact details for key personnel in surging companies.
"We set up Surge Alerts to notify individual salespeople whenever a target account surges in interest and they are finding it extraordinarily useful", said Shepherd Smith, True Influence Vice President of Marketing. "Sales outreach to these surging accounts is significantly more productive and we are expanding our use of Surge Alerts in Q3".
News of this announcement follows an impressive first-quarter for True Influence, where the company recorded a revenue growth of 61%.
About InsightBASE
InsightBASE is an Account Based Marketing platform that monitors the activity of millions of companies across the web and intelligently links interests with prospects.
The InsightBASE platform represents the largest collection of B2B intent signal data in existence and operates by providing full contact data (including email addresses and phone numbers of key account individual personnel) in an email alert whenever a target account shows signal interest in their product. This allows for an unprecedented "striking while the iron is hot" response, where target accounts can receive the email campaign intended for them, when their point of interest is at its peak.
About True Influence
True Influence is the leader in fact-based ABM innovation, a data-driven technology company dedicated to improving B2B marketing intelligence, demand generation, and more. Their over 200 customers include companies such as IBM, Time Warner, HP and Google.
To learn more about True Influence, InsightBASE Surge Alerts or to request a product demonstration, visit: http://www.trueinfluence.com