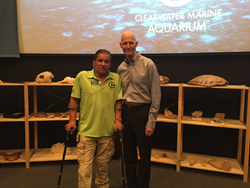 It's been really great because of his passion for his job. He wants to be here until he stops working and that comes across every day.
Clearwater, FL (PRWEB) July 19, 2016
Hope and Winter, the two famous dolphins at the Clearwater Marine Aquarium, have a new friend – Fernando Zuluaga. Fernando points out that, just like Hope, he too has a disability. He had polio as a child, and it affected his mobility. He uses crutches to get around and has a wheelchair to use when his legs are tired and don't want to hold him up anymore. He can relate to the people who have disabilities who come to meet Hope personally.
Fernando is thrilled with his new job as a guest operations host at the Aquarium, but it was a difficult journey getting there. Fernando also has vision problems due to a head injury, and he was having trouble finding a job because of it. He came to Vocational Rehabilitation (VR), a state agency that helps people with disabilities get or keep a job, to see if they could help.
He met with VR Counselor Andrea Bennett to decide the best career direction for him. She brought in a job coach to help him write his resume and search for jobs. Fortunately, Fernando was willing to relocate from New Port Richey, so his job coach had a larger area to search. They found out the Clearwater Marine Aquarium was holding a group interview for a number of available jobs, so Fernando was encouraged to go.
"It was a group interview and they asked me to tell them more about myself," Fernando says. "I stood up and picked up my crutches, and I looked at all the supervisors and people applying for the jobs. I said I'm kind of shy. You're lucky that I can't see very well because if I could read all of the jobs listed that are open, then I would take all the jobs away from you guys."
Fernando likes to tell everyone that he's shy, but those who work with him know that isn't true. His supervisor, Chad Laughhunn, explains, "He has a great, really joking-type personality, and he takes people by surprise."
His new job fits his personality perfectly. Fernando greets guests arriving at the Aquarium and makes sure they know which way to go to get tickets and enter the Aquarium. "When people come in I say 'Hi, how are you?' and try to start a conversation to make them feel comfortable. I give stickers for the kids. I say 'Can you do something for me?' and they wonder what I'm going to ask and then I say 'Have fun!' and then they laugh."
Chad is glad to have Fernando on his team. "It's been really great because of his passion for his job. He wants to be here until he stops working and that comes across every day. He's never down, and he can always uplift you with his attitude and smile."
Fernando is thankful for Andrea and VR because they gave him a chance when others wouldn't. Andrea says, "I truly enjoyed working with him. He didn't ask for much, he just wanted someone to believe in him. And now he's doing so well and thriving."
"Since Fernando, we've hired a couple other people with disabilities who we may not have if we hadn't already had him working with us," says Chad. He encourages other employers to do the same. "Take the risk. It's worth it; it's worth a shot. We're so happy we made that decision, and they should give it a try too."
About Vocational Rehabilitation
Florida's Vocational Rehabilitation (VR) is a federal-state program committed to helping people with disabilities become part of America's workforce. The employer-focused website, https://abilitieswork.employflorida.com/, allows businesses to search at no charge for employees who are ready to go to work, as well as to post available jobs. VR has 90 offices across Florida, and last year helped 5,760 Floridians with significant disabilities find or keep a job. For more information about VR and its services, call (800) 451-4327 or visit http://www.Rehabworks.org