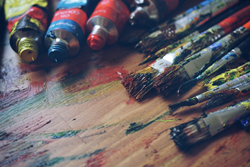 Art is one of the many great creations of mankind and I think it's something that everyone is capable of doing, they just need the right information.
(PRWEB) July 10, 2016
NativeAmericanJewelry.com is somewhat of an expert when it comes to taking elements of nature and applying that to art. They work closely with Native American artists who do this for a living. For thousands of years, earlier cultures did this exclusively as they had no other means of making clothes, pottery, paints, and canvas.
The team at NativeAmericanJewelry.com have taken this concept to heart and wanted to provide a way for the fans of their site and even new guests to take the creative process into their own hands and make something from the gifts of nature. A spokesman for the company, Steven Onida, provided a statement with this new release of helpful tips. "Art is one of the many great creations of mankind and I think it's something that everyone is capable of doing, they just need the right information. These tips are our way of thanking our loyal customers for their years of patronage and also a way to welcome new guests to the fold as well."
Onida and his staff take the DIY projects a step further by providing great pieces of jewelry that go with these new creations.
NativeAmericanJewelry.com's Natural DIY Dyes
Creating Natural Dyes- For many years' people looked to various plants, berries, fruits, and vegetables for dyes and paint. Here are a few colors and what to use to create their natural dyes for clothing.
Gray/Black- These colors are probably the most widely used in fashion and for that reason, it's important to find the right natural elements to get these colors perfect. People can use blackberries, iris root, or the hulls of walnuts to get these colors. The best match for these darker colors will be a contrasting white Howlite pieces that will really pop against these shades of black and gray.
Orange- Orange can be made from carrots, gold lichen, and onion skins. A piece that would go perfectly with orange dyed clothing is Tiger-Eye rings, the subtle inclusion of brown and orange help tone down the dye, but gently continues the flow of colors at the same time.
Brown- Brown is pretty simple to accomplish, you can use dandelion roots, bark from Oak, acorns, or even just coffee. Since brown is an earthy tone, you'll want to pair it with another nice Turquoise necklace to get a great merge of green and blue into your new brown clothing.
Green- Another great dye that can be found in abundance, this color can be achieved from peppermint leaves, grass, lilacs, nettles, peach leaves, and artichokes. A piece that would complement this natural color well is almost anything. People should really get warm colors like yellow, blue, and green. Multi-stone bracelets are perfect for this reason.
The team at NativeAmericanJewelry.com wish everyone luck with their creative endeavors and hope this release of helpful DIY dyes will inspire people to start creating art from nature more often.