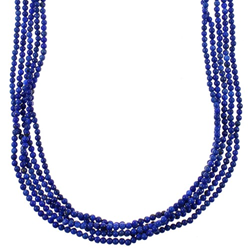 Lapis Lazuli is that perfect combination of dark and glossy that fits the new blue exactly.
(PRWEB) July 12, 2016
Back in 2009, researchers at Oregon State University accidentally caused a chemical reaction creating a completely new shade of blue. Over the past 7 years, the team has gradually spent time perfecting the new pigment and recently released for commercial coating, which is sure to make a splash in the coming years, to the fashion industry.
The color and the compounds that make it up, have been found to be so stable that it will never fade. TurquoiseJewelry.com believes "This is what makes the new find so interesting to commercial businesses in fashion, painting, and many other manufactures."
The team at TurquoiseJewelry.com has taken it upon themselves to prepare the general public by releasing a new collection of gemstones that will match the created shade of blue perfectly. Lapis Lazuli, a stone known for its rich and dark allure appears to be a great compliment to this new color. A spokesman for the site, Jack Burch, gave a statement with this new release.
"The company has always been a fan of turquoise, it's in the name. However, we also pride ourselves on our diversity and have found another beautiful blue stone that is the perfect match for the new shade of blue. Lapis Lazuli is that perfect combination of dark and glossy that fits the new blue exactly. We know that this new discovery and the release of it for mass manufacture are bound to hit the shelves soon so we wanted to prepare people with the perfect accessories to this color. "
TurquoiseJewelry.com has been a provider of high-end turquoise jewelry since they were founded and wanted to release the pieces in their latest collection to entice new guests to join the TurquoiseJewelry.com fan base.
Among the pieces that will be featured, guests will be able to find earrings, rings, bracelets, necklaces, pendants, and various other pieces. Burch is confident that people will be hard-pressed to find the right shade of blue for clothing that will be produced in this new color so this collection will help ease the demand quite a bit. Burch also adds that since a lot of their jewelry is handmade by artists, supplies are limited, so people should act fast.