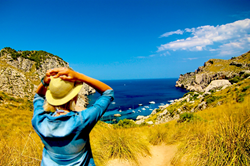 Our environment is essential to life and that's why I feel it's important to remind people just how beautiful it can be.
(PRWEB) July 15, 2016
In a recent decision to try to decrease air pollutants in Native American communities that are released from outdated diesel engines, the EPA has made $1 million dollars available to tribes to access programs that will help them make the transition. TurquoiseJewelry.com would like to spread awareness of environmental consciousness by releasing a new set of eco-related jewelry pieces that show the great beauty that comes from nature and how people can have a piece of the beautiful Earth wherever they go.
Spokesman for the company, Jack Burch, stated "Our environment is essential to life and that's why I feel it's important to remind people just how beautiful it can be."
One of the biggest and main exports of the company is Turquoise jewelry. Turquoise is a great example of how nature can combine with artistry to form something truly stunning. Turquoise is usually formed in mines, as mineral deposits continue to grow and collect more material from circulating water. These minerals, over time, create a chemical reaction that forced the water out of the stone, leaving a lovely array of color and the veins where the water came from. Here, you will find artists that take this material and use it to create necklaces, earrings, bracelets, and so much more.
Another great gem is Lapis Lazuli. This stone has been worn by kings and queens because of its royal blue coloration. The formation of this stone occurs through chemical contact, usually from limestones. Just like Turquoise, Lapis has been used for centuries to make magnificent pieces of Lapis jewelry and can even be traced back to Egyptian fashion. You can find the deep royal blue of Lapis Lazuli here as well.
Oyster shell jewelry is highly valued for its rich color and connection to the ocean. It reminds people of the array of marine life that lives just beneath the ocean's surface and how nature can take on so many forms of life. Just as the previous two stones, Oyster shells have been used in jewelry for thousands of years and can be found in vibrant orange, red, and yellow colors, to name a few. You can find Oyster shell jewelry here.
Burch and his team at TurquoiseJewelry.com believe that this new release will give people a deeper appreciation for the environment and the beauty that can be found within.