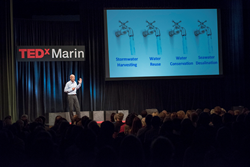 San Rafael, CA (PRWEB) July 08, 2016
TEDxMarin, the local organization that brings the TED experience to Marin County, has announced its 2016 speaker list and a new location for their seventh annual event on September 17.
Renowned speakers, including recent TED prize-winner and former director of Google's philanthropic arm Google.org Larry Brilliant, will traverse the event's theme "WHAT IF…' Reframing the Possible," by exploring topics on meaning, joy, profession and purpose, and revealing innovations that radically address global and cultural issues.
This year, to better accommodate a growing community and on-site networking opportunities, TEDxMarin will be held at The College of Marin in Kentfield, CA, in the expansive James Dunn Theater.
TEDxMarin's recently announced speaker list reveals a list of global thinkers bringing bold, unique insights into the year's theme, in the topic areas of INNOVATION, TECHNOLOGY, PSYCHOLOGY, DEMOCRACY, HUMOR, UNDERSTANDING, COMMUNITY, and WORLD AFFAIRS.
The 2016 TEDxMarin speakers are:

Dr. Larry Brilliant, winner of the TED Prize, who speaks on a deeply personal spiritual journey behind the eradication of smallpox in India.
Dr. James Canton, futurist and author, who discusses the good, bad and the scary of artificial intelligence.
Dr. Daniel Cordaro, a human emotion scientist, who addresses new insight from the science of happiness that changes everything.
Dr. Robb Willer, sociologist, who explores compelling new research on language and a response to political polarization.
Mehri Dadgar, artist, and educator, who having endured years of torture and other hardships as a political prisoner in Iran, makes an impassioned plea for understanding the Muslim world.
Martha Fishburne, an eighth grade student, who discusses being more than just our labels.
Shamil Idriss, President & CEO of Search for Common Ground, who explores stunning new initiatives overcoming violent conflict in the world.
Andrew Norelli, Humorist and stand-up comedian who rants against the absurdity of error messages.
There will also be a musical performance by cellist Mark Summer, a former member of the Turtle Island Quartet, who is known worldwide for his phenomenal techniques and phrasing.
The event will be hosted by Christine Marie Mason, the CEO and President of Now Labs.
TEDxMarin is an organization dedicated to bringing together community and innovation, creating vibrant discussion and forging powerful connections among its more than 8,500 Bay Area Members including creatives, executives, entrepreneurs, and engaged citizens. TEDxMarin 2016 looks to inspire and illuminate our Marin community with thought-provoking ideas that reframe our vision of what's possible.
This year's cornerstone event will include a community reception with appetizers catered by Good Earth Natural Foods and wine for the attendees, a showcase of over 20 innovative companies and non-profits, followed by the filming of the 2016 TEDxTalks and, finally, a dessert reception. Guests will also be invited to a TEDx sponsored after party at a local restaurant.
"We are especially pleased to be partnering with the College of Marin for this year's event," said TEDxMarin Executive producer Bob Ayres. "The College is fundamental in supporting learning in our community, and has been incredibly supportive in bringing our event to their beautiful Marin theater." Ayres added, "With the new venue, and powerful speaker line-up, our guests are in for a real treat, and a few surprises, this year."
Event details and ticketing information can be found at http://www.TEDxMarin.org. Join the community on Facebook: http://www.facebook.com/TEDxMarin and Twitter: http://twitter.com/TEDxMarin
About TEDx, x = independently organized event
In the spirit of ideas worth spreading, TEDx is a program of local, self-organized events that bring people together to share a TED-like experience. At a TEDx event, TEDTalks video and live speakers combine to spark deep discussion and connection in a small group. These local, self-organized events are branded TEDx, where x = independently organized TED event. The TED Conference provides general guidance for the TEDx program, but individual TEDx events are self-organized. (Subject to certain rules and regulations.)
About TED
TED is a nonprofit organization devoted to Ideas Worth Spreading. Started as a four-day conference in California 26 years ago, TED has grown to support those world-changing ideas with multiple initiatives. At TED, the world's leading thinkers and doers are asked to give the talk of their lives in 18 minutes. Talks are then made available, free, at TED.com. TED speakers have included Bill Gates, Jane Goodall, Elizabeth Gilbert, Sir Richard Branson, Benoit Mandelbrot, Philippe Starck, Ngozi Okonjo-Iweala, Isabel Allende and former UK Prime Minister Gordon Brown. Two major TED events are held each year: The TED Conference takes place every spring in Long Beach, California (along with a parallel conference, TEDActive, in Palm Springs), and TEDGlobal is held each summer in Edinburgh, Scotland.
TED's media initiatives include TED.com, where new TEDTalks are posted daily; the new TED Conversations, enabling broad conversations among TED fans; and the Open Translation Project, which provides subtitles and interactive transcripts as well as the ability for any TEDTalk to be translated by volunteers worldwide.
TED has established the annual TED Prize, where exceptional individuals with a wish to change the world are given the opportunity to put their wishes into action; TEDx, which offers individuals or groups a way to host local, self-organized events around the world; and the TED Fellows program, helping world-changing innovators from around the globe to become part of the TED community and, with its help, amplify the impact of their remarkable projects and activities.
Follow TED on Twitter at http://twitter.com/TEDTalks, or on Facebook at http://www.facebook.com/TED