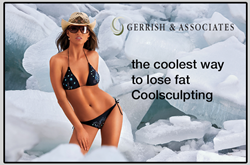 freeze fat 45% faster and cover 30% more area now with the CoolAdvantage by CoolSculpting, offered only in Northern Virginia at Gerrish & Associates MedSpa
Vienna, VA (PRWEB) July 11, 2016
Dr. Scott Gerrish is pleased to announce that Gerrish & Associates MedSpa is the first to provide the CoolAdvantage Applicator in Northern Virginia. The CoolAdvantage Applicator is the newest innovation provided by ZELTIQ Aesthetics, the maker of the CoolSculpting procedure that helps eliminate hard-to-lose fat in the areas of the stomach, chin, sides, and inner and outer thighs. The new CoolAdvantage Applicator allows for faster treatment times by freezing the fat cells at lower temperatures, cutting the treatment time down by nearly half.
About CoolSculpting and CoolAdvantage
CoolSculpting is the only FDA-approved fat reduction treatment. It is a non-invasive treatment that targets the unwanted fat cells directly under the skin by freezing them. After they're frozen, the fat cells are eliminated from the body by the remaining healthy cells.
More than three million CoolSculpting treatments have been performed in 70 countries around the world. Patients can see results in as little as three weeks after treatment, with the most dramatic results being visible after three months.
CoolAdvantage is the newest applicator for the CoolSculpting system that comes with an adaptable 3-in-1 configuration and enhanced cup design. CoolAdvantage reduces treatment time by almost 50 percent by allowing treatments to be safely performed at cooler temperatures with greater patient comfort during the procedure. CoolAdvantage comes with three different applicators to address multiple treatment areas—CoolFit Advantage for vertical areas of fat, CoolCore Advantage for contours of the abdomen, and CoolCurve+ Advantage for flanks. "Our patients are extremely pleased that they can treat larger areas of the body at one time so they get faster and better results," says Dr. Gerrish.
About Dr. Scott Gerrish and Gerrish & Associates MedSpa
Dr. Gerrish is Medial Director of Gerrish & Associates and the Medical Director of ZELTIQ Training Center East in Reston, VA. He has been featured in leading local and national periodicals, including STYLE Magazine and The Washingtonian. He is recognized as an Allergan Platinum Plus BOTOX Provider, designated by BioForm as a Premier Provider of Radiesse, and is considered one of the most experienced providers of non-invasive to minimally invasive cosmetic procedures. He has trained numerous physicians on such treatments and has worked directly with laser companies to develop advanced laser technologies. Dr. Gerrish completed his residency at The George Washington University Medical Center and has been delivering non-invasive to minimally invasive medical cosmetic treatments since 1996.
Gerrish & Associates MedSpa offers a wide variety of minimally invasive cosmetic medical procedures, including liquid facelift procedures and Botox, as well as full spa services ranging from dermaplaning and chemical peels to facials and the Rejuvenating Facial with Fraxel® Boost. They have locations in Vienna and Alexandria, VA.
For more information about Dr. Gerrish and Gerrish & Associates MedSpa visit http://www.drgerrish.com.
Gerrish & Associates MedEsthetics
112 Pleasant St SW
Vienna VA 22180
703.255.5580
http://www.DrGerrish.com
News provided by BeauteeSmarts Carlsbad CA 92008 760.678.0022
Source: Gerrish & Associates