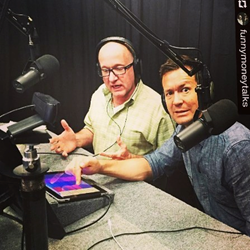 Sheldon & Bob explore financial situations with witty commentary on each Funny Money episode"
Los Angeles, CA (PRWEB) July 12, 2016
Stand-up Comedians Bob Wheeler, certified CPA and Sheldon Anderson, ex-financial advisor, announce their newest project; a humorous, informative and lively podcast exploring money matters, investing, and how to stretch a dollar. Solving the financial problems of life can be frustrating for many people. Anderson and Wheeler invite everyone to join them for a new perspective on living large and laughing all the way to the bank. Check out the first twenty episodes of Funny Money today!
Here's what Funny Money listeners are saying, "This show features great guests and hilarious insights on the global financial variables and personal situations of their many friends and clients -- as wealth advisors in LA. It's a pragmatic inside-look at a comical system that takes a couple of professional comedians to understand."
Follow the Funny Money podcast with these three easy ways to listen and subscribe:
Funny Money is available on iTunes- HERE
Listen to Stitcher Radio- HERE
The Network Studios- HERE
About Sheldon Anderson:
Sheldon began his career as a financial advisor with UBS. Having trained in improv with Second City, Anderson used his customized "Yes, And…" method to maneuver his way to the top, eventually becoming part of wealth management team. Having spent five years abroad, he also incorporates a global historical approach to investing. Believing in a defensive financial strategy, Anderson is a Senior Broker at one of the top gold companies in the country. As a stand-up comedian, he takes a contrarian look at life and finances, and believes the world economy is going down the tubes — No joke!
About Bob Wheeler, CPA:
Bob offers a simple and effective method for creating a healthy relationship with money. A popular radio show guest, where he shares his concept of personal finance and invites listeners to call in with their questions. While building his accounting practice, Bob simultaneously pursued his love of satire and ventured into the realm of standup comedy. Blending his comedic wit with 25 years of helping clients, Bob's approach to money integrates practical tips with humor. He shares his budgeting directives with a liberal dose of inspiration and motivation to all - with monetary concerns. In addition to his CPA practice, Bob is also the CFO for The Comedy Store in West Hollywood, California.
Learn more about Funny Money: http://www.funnymoneytalks.com.