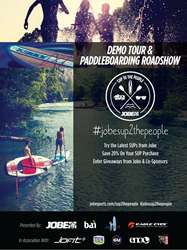 Visitors at each of the tour's 25 stops will have the chance to try Jobe stand up paddleboards (SUPs) and experience products from tour co-sponsors
Pasadena, Calif. (PRWEB) July 11, 2016
Today, Jobe Watersports announced the details of its "SUP 2 The People" demo tour. The tour will launch on July 23, in San Diego, Calif. It includes stops in California, Nevada, Utah, Idaho, Washington and Oregon before finishing on August 21 in Santa Barbara, Calif. The complete tour schedule is available at http://jobesports.com/sup2thepeople.
Visitors at each of the tour's 25 stops will have the chance to try Jobe stand up paddleboards (SUPs) and experience products from tour co-sponsors Johnnie-O clothing, Bai Beverages, Eagle Eyes, JoFit, Eagles Nest Outfitters, GU Energy Gel, CLIF Bar and Rockview Farms.
Local SUP groups, paddling clubs and dealers will support nearly all of the tour's stops.
"We want to get more people on the water," said Maud Broekmeulen, marketing manager for Jobe Watersports. "Whether they're trying the sport for the first time, or trying out the latest technology, we want them out there having fun."
Two Jobe brand ambassadors, Stephanie Lynn Martin and Taylor Reed Newton, will lead the tour. Martin and Newton were selected as part of a contest leading up to the tour.
"Spending the summer introducing people to a sport I love is a dream come true," said Newton. "Add in the chance to see some of the most beautiful places in the country, and it's hard to imagine a better summer 'job.'"
Martin and Newton will share their experiences through Jobe's social media channels, including @jobewatersports on Twitter, @jobesup on Instagram, Jobe SUP on Facebook and JobeSports on Snapchat.
Visitors who want to meet up with the "SUP 2 the People" demo tour can RSVP for a stop near them at http://jobesports.com/sup2thepeople.
Currently Scheduled Tour Stops
Sun, Jul 17 — Dillon, CO
Fri, Jul 22 & Sat, July 23 — San Diego, CA
Sun, Jul 24 — Dana Point, CA
Mon, Jul 25 — Lake Arrowhead, CA
Tue, Jul 26 — Long Beach, CA
Thu, Jul 28 — Las Vegas, NV
Sat, Jul 30 — Park City, UT
Mon, Aug 1 — Boise, ID
Wed, Aug 3 — McCall, ID
Fri, Aug 5 — Coeur d'Alene, ID
Sat, Aug 6 & Sun Aug 7 — Seattle, WA
Tue, Aug 9 — Portland, OR
Wed, Aug 10 — Hood River, OR
Fri, Aug 12 — Bend, OR
Sat, Aug 13 — Sunriver, OR
Sun, Aug 14 — N Lake Tahoe, CA
Mon, Aug 15 — Lakeport, CA
Tue, Aug 16 — Rancho Cordova, CA
Wed, Aug 17 — Sacramento, CA
Thu, Aug 18 — San Francisco, CA
Sat, Aug 20 — Mammoth Lakes, CA
Sun, Aug 21 — Santa Barbara, CA
About Jobe
Jobe's mission is to get more people on the water. The company makes stand up paddleboards, wakeboards, water skis, wetsuits, life jackets and other watersports gear. Headquartered in the Netherlands with a global distribution network, Jobe makes innovative products that help people have fun on the water.
http://www.jobesports.com