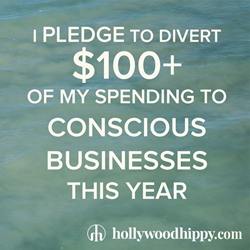 Californians want to spend their money in alignment with their morals, but often don't have time for the research. Hollywood Hippy makes it easier to be the change you want to see in the world.
Los Angeles, CA (PRWEB) July 08, 2016
Hollywood Hippy is a new digital publication that helps consumers find eco-friendly and ethically made products without sacrificing quality or style. As part of their launch and ongoing mission, Hollywood Hippy is asking users to make a pledge to divert $100 or more of their annual spending to conscious businesses during the next year.
Hollywood Hippy's mission and content are based on the belief that consumers can transform the world through the power of their dollars and that corporations will not change until the status quo becomes unprofitable. The goal is to get 10,000 Californians to commit $100 by signing a pledge at hollywoodhippy.com/pledge, which could lead to $1 million flowing to local, ethical businesses instead of giant corporations. According to the Institute for Local Self-Reliance, for every $1 million in sales, independent retailers generate $450,000 in local economic activity, compared to just $170,000 by chains.
Running a business in line with a sustainable, ethical business model can be more complex than status quo business practices; being a conscious consumer takes more effort than the convenience of big box stores. However, a 2015 Nielsen study showed that 66% of consumers are willing to pay more for sustainable products and services, up 16% from 2013. As Hollywood Hippy grows its roster of ethical business information, it will bridge the gap between brands and consumers, easing conscious commerce for all.
Hollywood Hippy's editorial content--video, photography, feature stories and social media--will focus on noteworthy brands, creators and trends that are moving us along the path toward a conscious, sustainable lifestyle. The consumer-friendly, lifestyle content aims to empower readers with inspiration and action steps to make wiser choices with their money, their bodies and their lifestyle.
Brand Spotlights, an ongoing series, will profile brands based in Southern California and online. Each Brand Spotlight will include a Hollywood Hippy recommendation based on 8 criteria (a minimum of 4 required): fashionable, high quality, planet friendly, fair trade, gives back, handmade, U.S. made and organic. Business owners and satisfied shoppers can nominate a brand for coverage at http://www.hollywoodhippy.com/about-hh.
Hollywood Hippy was founded by former Los Angeles Times employee Heidi Linnebach, after her own struggles finding high quality, planet-friendly products. Even before launch, Hollywood Hippy was hosting successful events that brought their ethos to several hundred attendees. The more Linnebach discusses the ideals of Hollywood Hippy, the more enthusiasm she encounters for simplifying sustainable shopping. She adds,"Californians want to spend their money in alignment with their morals, but often don't have time for the research. Hollywood Hippy makes it easier to be the change you want to see in the world."
Hollywoodhippy.com
Facebook.com/Hollywoodhippy
Pinterest.com/Hollywoodhippy
Twitter and Instagram: @hollywoodhippy
# # #