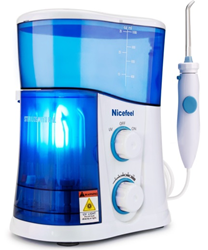 The results for these machines are really just phenomenal.
(PRWEB) July 15, 2016
In an article released by the Centers for Disease Control and Prevention (CDC), they claimed that periodontal diseases, like Gingivitis is present in 47.2% of adults and only appears to get worse with age. The disease can lead to a variety of different health problems, including: loose teeth, sensitive teeth, painful chewing, and even the need for dentures.
In response to this rise in Gingivitis, the team at WaterFlosser.org has come out with a new release of articles aimed at providing people with a convenient alternative for flossing, water flossers. The CDC recommends regular dental hygiene practices like brushing and flossing, however, a spokesman for the company, Jeffrey Atkins, stated that "regular flossing is too painful and time consuming."
Atkins went on to say, "People want a fast and convenient way to clean their teeth and mouth. It's not that they don't have the tools to prevent diseases like gingivitis, they are just too inefficient. That's why our team has provided information on a more comfortable solution that is often cheaper than most modern electric toothbrushes. The results for these machines are really just phenomenal."
The device that Atkins mentions is called a water flosser. These machines use water pressure to clean areas of the mouth that toothbrushes and dental floss can't reach. What seems to set these apart is their ease of use. People simply need to insert a toothbrush-sized machine into their mouths and let the water pressure do the work for them. Atkins believes that by making flossing easy, faster, and more effective, the rising rates of gingivitis are bound to drop.
The company has been committed to promoting these devices and providing information on individual models and brands. The main goal of WaterFlosser.org is to tell people exactly what each model can do and where to find them for the most affordable price.
Atkins is optimistic that this rise in mouth disease will dissipate over time and hope people will take advantage of the free information they offer about some of the top brands of this product, such as Waterpik and NiceFeel.