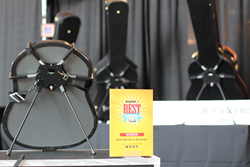 "This is so cool" and "Simple-to-use" - Tim Pratt, Dietze Music
Sugar Hill, Georgia (PRWEB) July 15, 2016
OnTop World Music Products proudly accepts the "Best in Show" award from a panel of industry experts at Summer NAMM, the annual music products trade event held in Nashville, TN. The innovative OnTop Acoustic Guitar Stand allows musicians to easily transport and display their acoustic guitar in their favorite, lined case.
The frame of the OnTop Acoustic Guitar Stand is constructed of sturdy, billet aluminum plates and arms that securely hug the back of a case. A detachable shoulder strap allows the player to transport their acoustic guitar, then easily transition to the display position. The legs are spring-loaded, and are deployed with an easy-to-use release mechanism, forming a tripod. At this point, the case can be opened revealing the guitar in a stable, upright position, allowing easy access for showing or playing. When it's time to go, the case is closed, the legs easily lock in place, and you're off. There's even a bottle opener in the center of the frame!
The "Best in Show" award was given to OnTop for the best add-on or accessory for musical equipment during the show's NAMM U in the Summer of 2016. The OnTop Acoustic Guitar Stand was recognized for conceiving a smart, new way of standing, carrying, and displaying an acoustic guitar, which allows players to convert their existing guitar case into a stand. Brands like Taylor and Martin say that a high-quality guitar case is essential for protecting surface finish and sound quality of an acoustic guitar. Tim Pratt, president of Dietze Music, was impressed with the stand's "super-easy" and "simple-to-use" design, encouraging guitar owners to convert their case into a stand with OnTop Acoustic Guitar Stand and protect their investment.
Pre-ordered units are currently in production, and the stands will be available for retail purchase in January 2017.
About OnTop World Music Products: All OnTop stands are made with custom built CNC machinery, to ensure a prefect product every time. This ensures each stand will hold up to the abuse a working musician can put it through. All OnTop stands are completely made and assembled in the United States, as part of a renewed pledge to put more manufacturing jobs back to America. Please visit http://www.ontopworldmusic.com for more information.