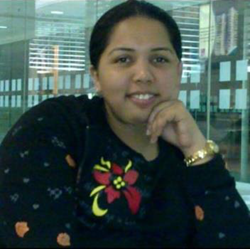 OET gave us scenarios that we really do use and it made the transition to working in Australia much easier
Melbourne, Victoria (PRWEB) July 08, 2016
The ANMAC decision is a big step forward for nurses and midwives wishing to work in Australia and is fully supported by OET, the English language test specifically designed for nurses, who participated in the consultation leading to the decision. It has been predicted that by 2025 the nursing workforce gap will have opened to between 80,000 and 147,000 nurses. OET has been providing healthcare-specific English testing for the past 30 years, and the test is recognised by all major healthcare regulators in Australia as proof of English proficiency for registration in nursing and 11 other healthcare professions.
Ma-Annjit Singh qualified as a nurse in the Philippines, graduating from Our Lady of Fatima University (OLFU). With four years of postgraduate clinical nursing experience under her belt, she migrated to Australia on a student visa with the aim gaining registration as a nurse. Ma-Annjit took the OET test before enrolling in a bridging program, the Initial Registration for Overseas Nurses course, and says what she learnt through OET made the course much easier.
"The scenarios used in the OET test gave me a glimpse into different ways of communicating so I knew what to expect. For example, documents are written in a different way in the Philippines," she said. On graduation from the bridging course, Ma-Annjit gained her Australian nursing registration with the help of her OET results. "I'm working as an agency nurse until I get permanent residency and I'm very confident that the way I'm communicating is correct. OET gave us scenarios that we really do use and it made the transition to working in Australia much easier."
CBLA (owner of OET) CEO, Sujata Stead says: "We fully support ANMAC's decision to allow applicants to combine OET test results within a six-month period, providing they meet the score and sitting requirements. We will continue to work closely with ANMAC and all regulators to ensure we meet the needs of the healthcare sector".
"We support nurses and midwives wishing to work in Australia and have done so for the past 30 years. Being the only nursing-specific English language test accepted by ANMAC means we are in the unique position to help nurses and midwives improve language skills that are specific to their job. OET uses real healthcare scenarios as the basis of test material and this means healthcare professionals taking OET feel more confident on test day and at work, and it ultimately means patients benefit as OET alumni have proven they can communicate in scenarios relevant to healthcare, such as conducting a consultation with a patient" Ms Stead concludes.
For full details on the announcement, visit the ANMAC website.
--------------
Health Workforce Australia, 2012, http://www.health.gov.au/internet/main/publishing.nsf/Content/australias-future-health-workforce-nurses