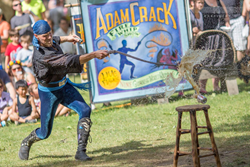 Voted "Country's Best Renaissance Faire" for the fifth consecutive year in 2015
Kenosha, WI (PRWEB) July 08, 2016
Voted "Country's Best Renaissance Faire" for the fifth consecutive year in 2015, the Bristol Renaissance Faire will open Saturday, July 9, for nine weekends through Labor Day Monday. This summer's 29th annual Bristol Renaissance Faire promises the same perennially popular compliment of 16th Century merriment, music, food and games that have earned top national honors from subscribers of Renaissance Magazine and the Renaissance Festival Podcast, along with some unexpected twists.
More Kid-Friendly Fun
With a rousing Huzzah! -and a great deal of merriment, the Bristol Renaissance Faire proudly presents an all new Kids' Kingdom. This marks the first time in nearly two decades that a whole new land has arisen for the pleasure and comfort of our audience of all ages. Enchanting Hobbit Houses and dragons appear in the breathtaking murals that surround Kids' Kingdom like a warm hug. Parents will be thrilled to discover a new air-conditioned rest area in Kids' Kingdom, was built to be a private and cozy resting space for changing and nursing babies and toddlers. Kid's Kingdom is a relaxing environment where a family can take a break and unwind, while enjoying all that the faire has to offer.
The Bristol Renaissance Faire is filled with kid-inspired experiences, including more than 30 games and rides, shows that make kids laugh, and special play areas bursting with whimsy and photo-snapping charm. Always entertaining and engaging, Bristol's newly developed Kids' Kingdom boasts a three-story castle stage that strictly features child appropriate shows. The tots can climb-aboard a pirate ship, explore hobbit houses, experience crafts and games and a full cast of beloved story book characters. Daily magic shows, story-telling and interactive role-playing adventures also take center stage throughout the day, and at 4:30 p.m., Queen Elizabeth herself shows up in Kids Kingdom for the celebrated Knighting Ceremony, at which she personally dubs all attending children lords and ladies.
A new inhabitant to Bristol, the story-telling Painted Lady will appear throughout the village, inviting youngsters to paint on her canvass garments as she spins her tales. Gabriel Quirk's zany characters can be seen all day throughout the city. Other popular, kid-friendly diversions include mad-cap tea parties with Lady Ettie, kid pike drills at the Military Encampment, toy ship sailing on Mouseboro Pond, and chance encounters with the Faire's most elusive inhabitants, curious faeries known as Fantastikals, who this summer will be enjoying a newly landscaped Fairy Garden.
The entrance to Kid's Kingdom features Six Thrones for the ultimate photo- op experience. Will you choose the Pirate Throne will all it's shiny plunder? Or the Fairy Throne with is delicate creatures and tiny homes? Are you brave enough to tackle the Dragon Throne? Or are you wise enough to sit in the Tree Beard's lap? All will enjoy a laugh with the new Jester Throne. Bristol debuts the brand new Queen Elizabeth themed throne in 2016. All are beautifully done and ready for fun.
Defying Gravity and Clashing Swords
The Sixteen Bristol entertainment stages feature nonstop music, feats of daring stunts and an eclectic assortment of comedic performers who invite their audiences to become part of the act. Joining Faire favorites, including the dashing knights The Jousters, Dirk and Guido, the comedic sword-fighting duo known as "The Swordsmen," ropewalker, juggler and foolish mortal MooNiE the Magnif'Cent, Guinness World Record-holding fire whip artist Adam Crack, the Barely Balanced acrobatic comedy troupe, and the Sturdy BeggarsTM Mud Show®, will be a breathtaking aerial silk act suspended from the trees of the wooded Faire site.
Among this summer's special musical guests, the explosive Celtic group, Tartan Terrors, will appear during the Faire's Celtic Weekend; the Musical Blades a high-energy minstrel troupe will perform August 20- 28) and The Dread Crew of Oddwood will arrive with its unique brand of Pirate-rock for Bristol's two final weekends beginning August 27.
One-of-a-Kind Wares
Bristol's Marketplace offers a depth of unique shopping experiences that can't be found anywhere outside the country's top Renaissance faires. Nearly 200 artisans and crafters display wares ranging from stage-combat-approved swords and handmade chain maille to Scottish kilts, handcrafted leather masks, tapestry wall hangings, sterling silver jewelry, rare-edition books, hand-caned brooms, bamboo flutes, even Steampunk adornments and even jester socks. Often, patrons have the chance to watch potters, glass blowers, bowyers, blacksmiths and other working artisans create their wares on-site.
Expanding upon the interactive nature of the Bristol Marketplace, the new Queen's College transports would-be crafters and history buffs alike into an immersive environment where they can learn a rotating variety of 16th Century arts from basket-weaving and candle-
making to chain-maille construction.
Live Action Fantasy-Play
Bristol's ever-evolving live action fantasy-play game, RenQuest, has become one of the most highly anticipated events of the Faire season. Originating in 2008, RenQuest brings the worldwide popularity of massively multiplayer online role-playing games, (similar to World of Warcraft) into the live action dimension of the Renaissance Faire. The interactive theatrical gaming experience offers players an unprecedented opportunity to experience the Faire through completing quests, honing skills and defeating evil villains. The game spans the entire 30-acre Faire site and employs 30 non-playing characters dedicated to enriching the fantasy experience
for patron-players.
Kids Quests provide the Faire's younger patrons, ages 5 to 11, with two daily opportunities to embark on their own, age-appropriate adventures. The 30-minute adventures are led by Winken, Blinken and Nod as they frolic through the town of Bristol searching for clues to the hidden treasure. Help Bristol's fairy tale citizens and be a part of their story. Parents must accompany children on the quest.
Tickets
Taking its framework from the summer day in 1574 when Her Majesty Queen Elizabeth visited the English city of Bristol, the Bristol Renaissance Faire is open for nine weekends. Located just west of I-94's Russell Road exit, near Kenosha, Wis. Open rain or shine, 10 a.m. to 7 p.m., every Saturday and Sunday, July 9 through Sep. 4, and Labor Day Monday, Sep. 5. Tickets are $24.95 for adults and $11.50 for children, ages 5 to 12. Advance ticket discounts are available at RENFAIR.COM, all Walgreens stores, or by calling (847) 395-7773.