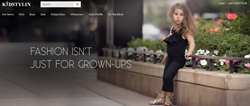 We decided to create a place that made shopping across the massive online landscape easy for everyone, regardless of style aptitude or budget
Chicago, IL (PRWEB) July 15, 2016
New social commerce site, KidStylin, officially launched taking on the booming, multi-billion dollar, kids clothing market.
"We created KidStylin because we realized there was a huge void in the kids' clothing market," said Jodie Kaplan, Co-Founder of KidStylin. "On KidStylin.com users can shop for kids across 70+ stores and hundreds of brands all in one place and we are consistently adding more. Essentially, we make shopping for kids fun and easy."
KidStylin makes it easy to stay on top of the latest trends and styles from celebrities, designers, stylists and social media influencers. The unique Style Block functionality allows users to curate, save and share their favorite items, complete looks and the hottest styles.
"We really encourage people to be social by sharing Style Blocks they have created and the fashion finds they love," said Jason White, Co-Founder of KidStylin. "We want shopping to be less time consuming, more social and ultimately fun. Think of it as going to a mall filled with only the best of kids fashion and accessories and shopping alongside friends regardless of their geographic location. We are working tirelessly to make it easy for our customers to stay on top of the hottest trends and pricing."
Purchasing is simplified with a shopping bag functionality allowing all items, regardless of the store, to be added and saved with ease. A sale alert feature also emails users as soon as favorite items go on sale.
"Shoppers do not have the time, nor want, to visit hundreds of websites, to find one unique item, let alone a full wardrobe. On KidStylin, it is all in one place. Users are able to find clothes that both look good and are priced within their budget" added Kaplan. "Think of us as the discovery tool for kid's clothing and accessories."
KidStylin launched in January 2016 just after Jodie had her second child. Jodie is a former reporter and publicist turned mother of two and entrepreneur. Jason is a serial entrepreneur and technology expert that has been involved with businesses ranging from technology driven restaurants to mobile applications and enterprise level software.
"Jodie was constantly approached by friends and strangers alike about the adorable and fashion forward outfits her children were wearing. These looks had been curated from across many physical and online locations," said White. "We decided to create a place that made shopping across the massive online landscape easy for everyone, regardless of style aptitude or budget."
With the rapidly growing kids clothing industry and a surge of Insta-famous kids, KidStylin is leading the way in showing that "Fashion Isn't Just For Grown-Ups."
About KidStylin
KidStylin is a Chicago based company that has received a tremendously positive response since it's launch in early 2016. It is fast becoming a crowd favorite and is rapidly acquiring users from all over the world with plans to continue expansion.