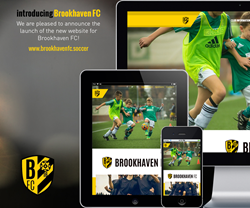 Soccer offers the fundamental building blocks to be successful, which is what we're trying to do with Brookhaven FC
Atlanta, Ga. (PRWEB) July 29, 2016
Brookhaven FC, a new year-round soccer club, has made its way to the North Atlanta community of Brookhaven and will be debuting this summer, with leagues available for kids of all ages. You can learn more about these leagues, camps and programs online at their new website, which launched earlier this month: http://www.brookhavenfc.soccer.
This August, Brookhaven FC will kick off its recreational and elite soccer programs, and registration is still open. Jon Akin, Executive Director and life-long soccer professional, created the club to meet a need in the community that had yet to be explored. Akin wants to make a difference in the community and thinks these soccer programs are the answer. Soccer has provided Akin with everything he had hoped for in life: family, life skills, achieving his goal to become a professional player and a career coaching others. He wants to give this back to the Brookhaven community.
A 35-year soccer veteran, Akin has spent 21 years coaching soccer at the club and collegiate level and has aligned himself with the most reputable, professional coaching staff in the area. These coaches are dedicated to the development of each player both on and off the field. Their efforts are to build not only incredible players and teammates, but solid human beings as well. This will be done through:

Player and parental education
Player development both on and off the field
Experiences that spark a lifelong passion for soccer
Preparing players for life's challenges, highs and lows
Another aspect of the club is its dedication to building and nurturing skills for any ability. Akin has developed seven customized programs to make sure everyone is included. You won't find other programs as dedicated to both the player and the person.
"Soccer offers the fundamental building blocks to be successful, which is what we're trying to do with Brookhaven FC," says Akin. "The club revolves around the community, character and soccer. Brookhaven FC has an array of programs for every skill level, ranging from recreational, pre-academy, academy and afterschool outreach."
Additionally, the club will offer a one-of-a-kind developmental training school for individuals and teams looking to enhance and improve players' technical abilities. The Soccer School of Excellence provides players the opportunity to fine-tune their techniques, tactics and knowledge of the game in a group environment. Training is a supplement to the players' club team and will be offered in six-week sessions throughout the year. Training is held on the Oglethorpe University campus in Brookhaven.
Brookhaven FC reached out to Black Bear Design to develop a new website for the club, one that would readily provide information about the programs, easy registration, and a quick overview of the club's mission. The website they developed is dynamic and mobile-responsive allowing parents and players to navigate with ease. The site is consistent with one of the main values of the club, which is communication to players and parents.
About Brookhaven FC
Brookhaven FC is a 501c (7) nonprofit organization dedicated to nurturing a supportive membership of families that draws upon the diversity and resources of the Brookhaven community. Brookhaven FC was established in 2016 and offers all levels of development and competition from ages four to 18. Training sessions are run by licensed, professional coaches who follow a curriculum based on player and personal development. We encourage you to see what Brookhaven FC has to offer. Attend a training session, meet the coaches and enjoy the game. Learn more at https://brookhavenfc.soccer/.