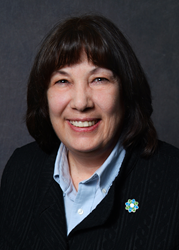 The Financial Managers Society made a strong choice in selecting Dorothy as its Secretary.
(PRWEB) July 11, 2016
Penn Community Bank Treasurer Dorothy Jaworski has been named Secretary of the Financial Managers Society (FMS) Philadelphia Chapter, a testament to the vast knowledge of the financial industry that she has accumulated over the course of her career.
A Senior Vice President with Penn Community Bank, Jaworski has served in the financial industry for more than 40 years, spending the past 11 years with Penn Community Bank and its predecessor, First Federal of Bucks County.
"The Financial Managers Society made a strong choice in selecting Dorothy as its Secretary," said Penn Community Bank President and CEO Jeane M. Coyle. "This honor demonstrates how well respected she is both within our team and by the entire industry as a whole."
The FMS Philadelphia Chapter is a nonprofit organization that helps educate and link the local banking community. Jaworski, a Collegeville resident, will serve a one-year term as Secretary. For more information about the FMS, go to http://www.fmsphila.com.
Jaworksi received an undergraduate degree from West Chester University and earned a master's degree in finance from Temple University. She began her career at Commonwealth Federal Savings, and then held roles at Meridian Bancorp / Core States Financial, Eastern Mortgage Services, and Progress Bank before joining Penn Community Bank in 2004.
In addition to her financial career, Jaworski also authored a book published in 2014, "Just Another Good Soldier – the Story of Pfc. Stephen W. Jaworski," which details her research to find out what happened to her uncle in World War II.
About Penn Community Bank: Penn Community Bank holds more than $1.8 billion in assets and employs more than 300 people at 22 bank branches and two administrative centers throughout Bucks County, Pennsylvania. As an independent, mutual financial institution, Penn Community Bank is not publicly traded and operates with its long-term mission in mind: to help businesses grow and prosper, to support individuals and families throughout their lifetimes, to strengthen the local economy, and to partner with local organizations to act as a catalyst for positive growth in every market it serves.