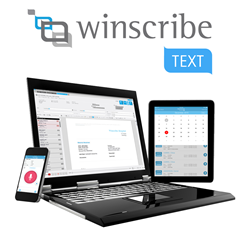 With Winscribe Text (based on Microsoft Speech technology), we've reduced report creation and distribution time from 21 days to 3 days.
Auckland, New Zealand (PRWEB) July 11, 2016
Winscribe Text v8.2 is an enterprise software system that streamlines clinical documentation workflow processes and enables clinicians to create, view, distribute and manage patient data and documentation quickly, easily and securely. Winscribe Text works as an independent clinical documentation management platform or in conjunction with one or more Electronic Health Record (EHR), Patient Administration System (PAS), or another Health Information System (HIS), through a seamless integration that enables the systems to securely share data. With the Winscribe Text system, clinicians can focus their attentions on patient care – while having accurate, well documented records available in an instant.
Today, many physicians and other caregivers are not only responsible for providing quality patient care and healthcare services, but also they are under tremendous pressure to produce precise, thorough and compliant documentation. Often times, documentation processes can be seen as time-consuming and burdensome to healthcare professionals that are looking to improve patient care, but they are required to be manage for patient care, medicolegal and compliancy reasons. Winscribe Text v8.2 provides an integrated solution for hospitals and other healthcare organizations that includes dictation, speech recognition, document management, performance monitoring, custom data management, patient alerts, electronic sign-off, HIS integration and automatic distribution of reports.
Winscribe Text clients around the world are already seeing the benefits of this technology in a healthcare setting. "With Winscribe Text (based on Microsoft Speech technology), we've reduced report creation and distribution time from 21 days to 3 days," commented Didier Cauchois, Chief Information Officer at Centre Oscar Lambret (France).
With the latest release of Winscribe Text, healthcare professionals also benefit from improved performance, reporting and data management, including:

Custom Data & Alerts – While Winscribe Text provides a number of key data fields that can be used in the clinical documentation process, users may find that they need or want to incorporate additional data fields such as medications, lab results, and other information collected in third-party HIS – information that Winscribe Text doesn't already accommodate automatically. To address this, Winscribe Text v8.2 provides three optional Custom Data modules, which enable you to define your organization's data needs and create custom alerts (e.g. patient allergies) based on your requirements.
New Productivity Reports – Winscribe Text offers a number of system reports that enables healthcare organizations to better manage staff productivity and the performance of documentation processes. New reports available with Winscribe Text v8.2 include: document lifetime, department activities performance, typing performance, and outsourced document performance reports.
Outsourcing Workflow Improvements – Documents created within Winscribe Text can now be automatically outsourced to a transcription company, based on the document type. Winscribe Text v8.2 also has more controls for handling documents that are received back from an outsourced transcription company. The system can be set up to have internal transcriptionists review outsourced work, or it can be set up to skip internal transcription and go straight to a physician for review and sign off.
User Experience Improvements – Winscribe Text v8.2 includes a number of new user feature developments that improves the way clients interact with the system. Included with the user feature updates is: the ability for a doctor to view and sign all documents ready for review; support for multiple patient IDs; the ability to convert binding files in a document to plain text; speech recognition capabilities that support author gender; new file search options; and new management controls.
"This new release continues to focus on market-driven demand," commented Pierre Corboz, Director Product Strategy at Winscribe. "Speed, performance and client experience are the core deliverables. The new custom data features enhance the information at hand for clinicians – whether it be patient alerts on specific issues around patient health charts or allergies, the ability to structure examination data and automatically insert it into intelligent documents and health records, or the option to automate the delivery of documents within seconds of their creation. This dramatically increases the information made available to the clinician at the point of capture and provides him with all necessary decision tools at a click of a button. The evolution and enhancements of Winscribe Text come from the ever-growing Winscribe community globally, and we remain dedicated to delivering solutions that help our customers save lives, daily."
To learn more about Winscribe Text and Winscribe's full suite of speech productivity and workflow management solutions, please visit http://www.winscribe.com. For more details regarding the latest features and upgrades made available in Winscribe Text v8.2, please visit http://www.winscribe.com/medical-documentation.
END
About Winscribe:
Clinicians using Winscribe software spend less time on administration and more time where they should be, with patients. Over 350,000 users around the world have used our suite of digital dictation, speech recognition and document management software.
Winscribe's product range makes documentation much faster and more cost-effective. Healthcare professionals can use their voice to easily create documents, enter data and send information.
Thanks to leading edge technology, healthcare providers using Winscribe software are able to focus their efforts where they can be of most benefit, leaving the bulk of administration in the hands of intelligent software. For more information, please visit http://www.winscribe.com.