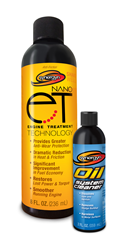 Houston, TX (PRWEB) July 12, 2016
Synergyn announces a new product delivers 20% greater lubrication plus combats the grind of stop-and-go summer driving
Drivers seeking longer engine life as well as gas and diesel fuel savings can have them all with a proven new nano-carbon, anti-friction lubricant technology.
It's Nano ET, an oil-change system that puts cars and light trucks on the road to lower operating temperatures, better engine performance and less wear at start-up. It also ensures improved fuel economy from oil change to oil change.
Laboratory tests confirm the value of Nano ET. This new technology mirrors a Purdue University study that verified the importance of nano-carbon spheres. Acting as tiny ball bearings, spheres in Nano ET reduce friction and maintain lubrication at start-up. That's the most demanding moment in any engine's life.
Purdue's independent research, confirmed by electron microscope, showed the spheres continuing their work during engine operation. By constantly reducing friction, Nano ET can cut fuel cost by 10-15 percent. Actual on-road testing demonstrated as much as 2 1/2 gallons of fuel saving per fill-up. Just a 12-percent fuel reduction would eliminate the need for 630 million barrels of imported oil each year.
With research showing today's drivers keeping their vehicles an average 11 1/2 years, Nano ET becomes even more significant. It not only cuts fuel cost. It aids drivers trying to extend the lives of their engines even beyond that 11 1/2-year plateau.
For more details about Nano ET, including occasional special offers, visit http://www.synergynsystems.com.
For additional information, phone 1-877-657-0014.