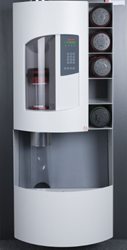 The Aerocom system is ideally suited for North American hospitals
Denver, Colo (PRWEB) July 08, 2016
Aerocom Healthcare will be demonstrating a fully operational AC3000 pneumatic tube system at the 53rd American Society for Healthcare Engineering (ASHE) Annual Conference and Technical Exhibition in Denver July 11-12. Aerocom Healthcare is part of the Atreo Group of companies, exhibiting in booth 931.
Pneumatic tube systems are commonly used throughout hospitals for the safe and efficient transport of lab samples, blood, pharmaceuticals and other patient-critical items. The AC3000 system boosts many features that are unique to the North American pneumatic tube system market. The Aerocom system is typically less costly to install and less expensive to operate.
"We're excited to be demonstrating the Aerocom pneumatic tube system at ASHE," says Eric Pollock, CEO of Atreo Group. "The Aerocom system is ideally suited for North American hospitals because of its quiet operation, space-saving design, real-time system monitoring, and high traffic-handling capability and great reliability. We are truly a strong alternative to the legacy providers in the market."
With an installation base of over 1,300 hospitals in 80 countries, Aerocom is one of the largest pneumatic tube system companies in the world. "Our plan is to establish Aerocom as the recognized technology leader in the North American healthcare pneumatic tube market," says Harry Pliskin, president of the Atreo Group.
About Aerocom Healthcare
Aerocom Healthcare focuses exclusively on pneumatic tube systems for healthcare facilities, offering complete system design consulting, BIM coordination, installation and project management support. The company works closely with architects and general contractors to ensure a smooth design process and timely project execution. Learn more about Aerocom Healthcare online at http://www.aerocomhealthcare.com.
Aerocom Healthcare is part of the Atreo Group of companies (http://www.atreogroup.com), which includes TransVac Solutions (http://www.transvacsolutions.com), the leader in automated waste, recycling and soiled linen collection and transport systems for hospitals, and Atreo Services (http://www.atreoservices.com), provider of on-demand and preventive service and support programs for pneumatic tube systems and other specialized mechanical/electrical systems within healthcare facilities.
About Aerocom
A 60-year old international company with offices worldwide, Aerocom is dedicated exclusively to the design, development and manufacturing of pneumatic tube systems for commercial, industrial, retail, government and healthcare applications. Learn more by visiting http://www.aerocom.de/en.