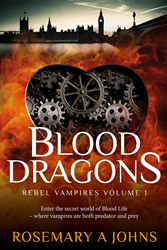 I loved the idea of a novel, which...had a British vampire front and centre. A vampire book truly for adults.
Oxford, UK (PRWEB) July 11, 2016
There are three people in this affair – and two of them aren't human…
The new fantasy book Blood Dragons explores a hidden paranormal world in London, where vampires are both predator and prey. It's a story of redemption and love in a divided world beneath our own. Blood Lifers are a camouflaged species, who use venom to paralyse and mimic heart attacks in First Lifers (humans). Yet they fear the First Lifers they prey on. Until one Blood Lifer rebels – against his family, species and century old love - to save both their species.
Rosemary A Johns is a traditionally published author of short stories under the name R. A. Johns. Blood Dragons is Rosemary A Johns' debut novel.
Rosemary A Johns commented, "I loved the idea of a novel, which was written from the vampire's perspective. Dark, intelligent and subversive. But also had a British vampire front and centre. The ultimate anti-hero. So that's what I set out to write. A vampire book truly for adults."
Blood Dragons is available for review at request. Rosemary A Johns is also available for feature interviews. Mother to an autistic son (who has a photographic memory like the vampire in Blood Dragons), Rosemary is politically engaged with the current divisions and issues in contemporary Britain at this historic time. Rosemary deals with themes of memory and identity, for example, dementia. With a BA and Mst from Oxford University, she is a fascinating interviewee.
The author Dorothy Davies has described Blood Dragons as, "Sharply observed, well written and different…a joy."
1960s London. Light is a Rocker Blood Lifer with a photographic memory. Since Victorian times he's hidden in the shadows. Both predator and prey. His venom is deadly. But when he discovers his ruthless family's secret experiments he questions whether he should be slaying or saving the humans he's always feared.
Ruby is a seductive and savage Elizabethan Blood Lifer. She burns with love for Light. But he's keeping something from her. Something that breaks every rule in Blood Life.
Kathy is a singer. But she's also human. When the two worlds collide, it could mean the end. For both species. Unless Light plays the part of hero, he risks losing everything. Including the two women he loves.
A rebel, a red-haired devil and a Moon Girl battle to save the world – or tear it apart. Experience a thrilling new twist on urban fantasy. Escape into a world, which contains vampires, romance and rebels.
ABOUT ROSEMARY A JOHNS:
ROSEMARY A JOHNS wrote her first fantasy novel at the age of ten, when she discovered the weird worlds inside her head were more exciting than double swimming. Since then she's studied history at Oxford University, run a theatre company (her critically acclaimed plays have been described as "uncomfortable, unsettling and uneasily true to life"), and worked with disability charities. When Rosemary's not falling in love with the rebels fighting their way onto the page, she heads the Oxford writing group Dreaming Spires.
Find a comprehensive bio and high resolution photographs of book cover and author here
On Amazon:
Paperback: £8.99 ($12.99)
E-book: £2.49 ($3.49)
There is also a Large Print Edition.
ENDS