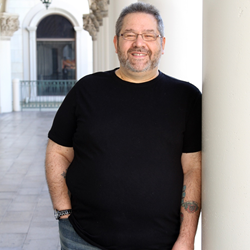 Big Boy Bamboo is an unapologetic, down-to-earth bamboo clothing brand for extra large dudes
Las Vegas, NV (PRWEB) July 11, 2016
Big Boy Bamboo has launched a ridiculously comfortable line of men's bamboo clothing designed specifically for big guys. With the luscious, silky feel unique to bamboo-derived textiles, Big Boy Bamboo's line is stylish enough to pull off a business-casual look, durable enough to wear to work, and comfortable enough to look great in just about any social situation. The breathable fabric is comfortable in most weather conditions and is more resistant to staining than plain cotton.
"Big Boy Bamboo is an unapologetic, down-to-earth bamboo clothing brand for extra large dudes," said Andrew DiMino, President and Founder. "We're talking about guys who wear 3XL shirt sizes and larger. Big Boy Bamboo is a brand that treats plus size men with respect, which means we're honest, real, and provide products that are actually designed for the men who will wear them. We also use actual big guys on our web site and in our product photos which most Big & Tall stores actually don't do."
Big Boy Bamboo currently makes Men's Short Sleeve T-shirts in Crew Neck, Crew Neck with Pocket and V-Neck styles in 3XL, 4XL, 5XL & 6XL sizes (7XL and 8XL coming end of summer). By the end of the year, we'll see tall sizes - 1XLT, 2XLT, 3XLT and 4XLT for our Big and Tall shoppers.
Viscose from bamboo is the manly version of silk. It has that soft, satiny texture, but it doesn't have that prom dress shine. It's also easy to care for - you don't have to perform any special rituals to take care of it like you would with silk. The fabric blend is 70% organic bamboo viscose and 30% organic cotton, and Big Boy Bamboo recommends washing in cold water and hanging it up to dry to prevent shrinkage.
The Problem with Plus Size Men's Clothing
Bamboo fabric is a popular choice today because of it's environment-friendly properties, and because it's a soft, comfortable, natural fiber that fills a need for large guys. "Our shirts offer a luxurious feel, unparalleled comfort, and go-anywhere style for men that are usually relegated to the 'big and tall' section of stores that treat them like an afterthought," said DiMino.
Nobody needs to tell men that it's okay to be big; big guys are tired of being treated like a sensitive topic. Big Boy Bamboo is a brand that treats plus size men with respect, which means they're honest, real, and provide great looking and great feeling products that are actually designed for big men.
Unapologetic Style, Unapologetic Comfort
"The clothing industry grudgingly acknowledges that guys like us exist, but that's all about to change. Whether we call ourselves plus-size, extended size, hefty, big-boned, rotund, portly, beefy, stout, heavy, husky, plump, stocky, thick, chubby, or chunky, Big Boy Bamboo has the look, comfort, and style big boys want," DiMino added.
A lot of people are afraid to talk about what it's like being fat - not Big Boy Bamboo. Some call it the fat-acceptance movement, some call it size acceptance, fat liberation, fat activism, or whatever – Big Boy Bamboo calls it soft, comfortable eco-friendly clothing for big guys.
About Big Boy Bamboo
Big Boy Bamboo doesn't patronize their clientele by trying to convince them that it's "okay" to be fat – they're grownups, they know what they are and don't need or want that kind of pandering – and we're not trying to redefine beauty standards. Most clothing brands only sell sizes Small to Extra Large – 2XL if you're lucky. Big Boy Bamboo makes soft, comfortable bamboo clothing that fits well for guys who wear 3XL sizes and larger. Big Boy Bamboo is committed to becoming the world's most trusted brand of environmentally safe and responsible extended size products for the plus size man. To learn more please visit BigBoyBamboo.com