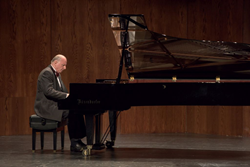 "Yamaha Artist Services is pleased to continue its relationship with this celebrated international festival," said Bonnie Barrett, director of Yamaha Artist Services New York.
NEW YORK (PRWEB) July 14, 2016
Yamaha Artist Services New York is pleased to announce that, for the second consecutive year, the prestigious International Keyboard Institute and Festival (IKIF) will feature two exquisite handcrafted concert grand pianos exclusively: the Yamaha CFX and the Bösendorfer 280 VC.
One of the finest grand pianos available today, the nine-foot CFX is a full-sized concert grand piano characterized by a wide palette of tonal colors and the ability to create the most subtle expressive nuances. The new Bösendorfer 280 VC, which made its North American debut at IKIF 2015, is a groundbreaking 21st century instrument that builds on the rich Austrian music tradition associated with the Bösendorfer brand for nearly 200 years.
Beyond these exceptional pianos, Yamaha will provide a large selection of instruments for the festival's teaching studios and practice rooms, including the Clavinova digital piano and the AvantGrand hybrid piano. This remarkable fleet of instruments will be furnished in collaboration with local Yamaha and Bösendorfer dealer, Faust Harrison Pianos.
Yamaha is additionally expanding its support of the festival by making its state-of-the-art piano salon and practice studios at Fifth Avenue and 54th Street available for the use of participating IKIF artists and students.
The 18th season of IKIF, running from July 17 – 31, will feature 14 concerts at the Kaye Playhouse at Hunter College in New York City, as well as weekend lectures and events, and daily master classes at Lang Recital Hall.
Founded and directed by Yamaha Artist Jerome Rose, who once again will inaugurate the festival with the opening recital, the 2016 IKIF will also feature a number of exclusive Yamaha artists, including Magdalena Baczewska, Claire Huangci, Alexander Kobrin, Ilya Yakushev and Eduard Zilberkant. The distinguished internationally acclaimed pianist Phillipe Entremont, who has enjoyed a long association with Bösendorfer, will also perform.
A number of international competition winners will also grace the stage, including Stanislav Khristenko (First Prize, Cleveland International Piano Competition and Maria Canals International Music Competition), George Li (Second Prize, International Tchaikovsky Competition), Alexander Schimpf (First Prize, Cleveland International Piano Competition) and Mariam Batashvili (First Prize, Liszt Competition).
View the full roster of IKIF's distinguished artists and faculty, as well as the festival schedule, at http://www.ikif.org.
Since its inception in 1999, IKIF has afforded students the opportunity to attend the Festival to study with Faculty Artists, participate in master classes, and attend concerts and lectures given by some of the world's most renowned pianists and scholars.
"Yamaha Artist Services is pleased to continue its relationship with this celebrated international festival," said Bonnie Barrett, director of Yamaha Artist Services New York. "Over the years, IKIF has evolved into a highly-respected cultural and educational institution, becoming one of the highlights and destinations of the summer performing arts season in New York City. I'm especially proud that Yamaha and Bösendorfer continue to serve as the festival's exclusive pianos."
Preceding each evening performance during the two weeks of the festival, noted musicologist and lecturer David Dubal will present Pre-Concert Program Notes at 7:15 p.m. in the Kaye. In addition, lectures will be held at Lang Recital Hall on selected Saturdays and Sundays during the Festival. Topics will include: "Conquering the Concord" —100th Anniversary of the Sonata by Ives; "A Century of Musical Culture in New York: The Legacy of Damrosch, Mannes, Godowsky and Gershwin;" and "Rachmanov on Rachmaninoff." These lecture events are free to the public.
Student participants who attend the Festival for two weeks are eligible to compete for $10,000 in the Dorothy MacKenzie Artist Recognition Scholarship Awards. The Dorothy Award Finals will be held on the final Sunday of the Festival in Lang Recital Hall at 11 a.m. and at 2 p.m. In addition, the IKIF will also award a performance opportunity at the Accademia Europea Villa Bossi (Italy) and a recording for the Sheva Collection label.
-END-
About the Yamaha CFX
Introduced in 2010, the Yamaha CFX concert grand is the result of nearly 20 years of refinement and development, together with subjective feedback from the most discriminating performing artists throughout the world. It has become the piano of choice of renowned concert artists everywhere, as well as for recordings, concert venues, opera houses, international competitions, and music festivals. The crowning glory of the Yamaha line, today's CFX concert grand incorporates numerous refinements in performance, appearance and safety, elevating this revered instrument to an even higher standard of excellence.
About the Bösendorfer 280 VC
The new Bösendorfer 280 VC is a groundbreaking 21st Century instrument that builds on the rich Austrian music tradition associated with the Bösendorfer brand for nearly 200 years. When Yamaha purchased Bösendorfer in 2008, the company pledged to take the quality craftsmanship, sought-after sound and storied Austrian tradition of Bösendorfer pianos to even greater heights, and the new 280 Vienna Concert grand reflects the success of that commitment.
The Bösendorfer 280 VC is hand-crafted to be the ultimate dynamically responsive, versatile and powerful concert stage instrument that represents both the distinctive and unique Viennese sound, strongly based on the Bösendorfer tradition, but also focuses on meeting all the expectations and needs of today's performances and venues, leveraging new technology.
Learn more at: http://www.ikif.org; http://4wrd.it/YASI; and http://4wrd.it/BOSENDORFER.
About Yamaha Artist Services New York, Inc.
Established in 1987 in New York City, Yamaha Artist Services, Inc. (YASI) provides a wide range of professional services exclusively for performing artists, concert venues, performing arts organizations and educational institutions, representing an unparalleled commitment to the music industry and an invaluable resource for musicians, presenters and educators worldwide.
Since 2005, Yamaha Artist Services New York has been located in the heart of midtown Manhattan on Fifth Avenue and 54th Street, in an historical landmarked 1925 building which originally served as Aeolian Hall, the headquarters of the Aeolian Piano Company. Designed by Warren & Wetmore, the architects of other notable buildings in New York City (Grand Central Terminal, the former Steinway Hall on 57th St.,) the building later became the headquarters for Elizabeth Arden. Occupying over 4,000 square feet, the Yamaha Artist Services Piano Salon features an elegant performance venue seating up to 90 and houses a large selection of concert-ready Premium Pianos of various sizes, including the acclaimed Yamaha CF series (CFX, CF6, CF4,), Bösendorfer, and Disklavier instruments, as well as the innovative AvantGrand hybrid and TransAcoustic pianos. Led by Yamaha's Chief Concert Technician, Yamaha Artist Services also provides outstanding technical support for concert venues and artists throughout the United States.
The Piano Salon is a state-of-the art, acoustically and technically adaptable environment. It features a wide-screen projection system with custom NEXO stereo sound, remote control cameras and a Newtek Tricaster system for video capture and live broadcast, and a 128 channel Dante-equipped Nuage recording and mixing console for professional audio recording and post production. The Piano Salon also features Yamaha's Active Field Control system (AFC), which uses sound processing technology to optimize room acoustics to suit the desired size of a performance, and can recreate authentic acoustic simulations of other performing arts venues.
It is a versatile space hosting instrument selections for artists, concert venues and educational institutions; rehearsals, recitals, auditions, masterclasses, press receptions, lectures and film screenings. The Piano Salon has been at the forefront of showcasing Yamaha Disklavier RemoteLive and Remote Lesson technologies, a groundbreaking and innovative way of delivering a live performance or pedagogical experience by linking two or more Disklavier pianos together, anywhere in the world, in perfect synchronization with video streaming.
Yamaha Artist Services New York works in close collaboration with other Yamaha Artist Service centers throughout the world, including those located in Japan, China, Russia and Europe, ensuring the seamless and unwavering support of Yamaha Artists internationally, wherever they are performing.