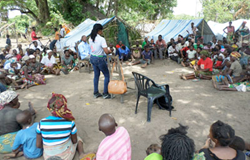 Elkridge, Maryland (PRWEB) July 08, 2016
International nonprofit Planet Aid released a statement today congratulating Mozambique on more than 41 years of independence. The country declared its independence on June 25, 1975, and celebrates its Independence Day annually. Mozambique is one of the many countries around the world in which Planet Aid supports projects that help the world's poorest populations improve their lives.
In partnership with Mozambican NGO Ajuda de Desenvolvimento de Povo para Povo (ADPP), Planet Aid works to increase educational opportunities and the quality of education in the country. For example, Planet Aid helps support Nikhalamo, a project dedicated to keeping vulnerable girls enrolled in school. Other projects focus on vocational skills training, providing young students across the country with opportunities to learn practical skills that can help them start their own business or obtain a job in the expanding industrial sector.
"Planet Aid considers education the foundation of all development," said Planet Aid President Ester Neltrup. "Through the initiatives and projects we support, we are creating the momentum to improve opportunities in the country. I hope the people of Mozambique had a wonderful Independence Day!"
Planet Aid supports programs in part by collecting donations of shoes, clothing and textiles from the United States. These donated articles are then recycled and sold across the globe, stimulating the local economies of the poorest communities in developing countries.
About Planet Aid
Planet Aid is a U.S. 501 (c)(3) nonprofit and is registered with USAID as a private voluntary organization. Accredited by the Better Business Bureau's Wise Giving Alliance, the net proceeds from Planet Aid's 21-state recycling operation help to support projects aimed at eliminating poverty. Since its inception in 1997, Planet Aid has provided more than $100 million to support projects on three continents. Planet Aid supports programs in education, teacher training, nutrition and agricultural and economic development.