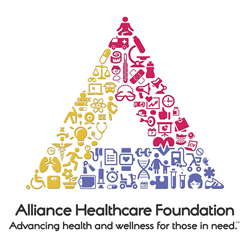 AHF is one of the few funders that understands the value of field building and is willing to fund the less glamorous or flashy parts of the work. Their investment in connecting these dots will pay off significantly in the long run... - Nelli Garton
San Diego, California (PRWEB) July 15, 2016
Alliance Healthcare Foundation (AHF), a nonprofit organization which works to advance health and wellness for the poor and underserved in San Diego and Imperial Counties, recently awarded responsive grants to Impact Without Borders, Mission Labs, and San Diego Impact Investors Network to help support and advance San Diego's pipeline for innovative ideas in health and wellness.
Responsive grants may be time-sensitive or part of an important co-funding opportunity with other funders. These grants may also be for a novel funding opportunity, leadership & organizational development-based.
"The responsive grant that we received from Alliance Healthcare Foundation was an investment in building the local ecosystem of impact investing," said San Diego Impact Investors Network Chair Nelli Garton. "Their support came at a critical time and has allowed us to bring on staffing support to move these efforts forward. AHF is one of the few funders that understands the value of field building and is willing to fund the less glamorous or flashy parts of the work. Their investment in connecting these dots will pay off significantly in the long run, given that our goal is to bring $100 million new dollars into the San Diego region."
Criteria used by AHF staff to assess this grant request included: target population, evidence base for program design, and the need for collaboration in this innovative ecosystem.
"The Responsive Grant from AHF has been instrumental in helping us launch Mission Labs, a program designed to help both new and existing nonprofits develop their capabilities to launch social enterprises," said Mission Edge CEO Ken Davenport. "We believe that social enterprise models, which include earned revenue and sustainable funding streams, represent the future of social impact work. AHF is helping us bring these concepts to the San Diego community, and we are grateful for the support."
AHF's responsive grants are awarded up to $25,000 primarily for an immediate need, however, these combined grants were important to build this collaborative effort in our community.
BH Kim, CEO/Co-founder at Impact Without Borders, added, "The Alliance Healthcare Foundation is the leading philanthropy seeking innovative ways to make a social impact in the health and well being of the most vulnerable communities in San Diego. With their responsive grant, Impact Without Borders was able to launch San Diego's very first social enterprise accelerator which included ventures addressing food insecurity and homelessness. We thank and acknowledge the foundation for embracing risk and innovation as an important value for meeting the daunting challenges of the 21st century."
Organizations can apply for responsive grants online at any time at http://alliancehf.org. There is no deadline for responsive grants.
If you have any questions or if you would like to apply via paper application, email Nancy Sasaki, Executive Director, AHF, at [email protected] or Michele Silverthorn, Program Officer, at msilverthorn(at)alliancehf(dot)org.
# # #
About Alliance Healthcare Foundation
Alliance Healthcare Foundation is a San Diego-based nonprofit which works with nonprofit, government and community agencies to advance health and wellness throughout the San Diego and Imperial Counties. AHF works to serve the most vulnerable – the poor, working poor, children and homeless by providing grants, advocacy and education to support its region.
To learn more about AHF and available grants, visit http://AllianceHF.org.