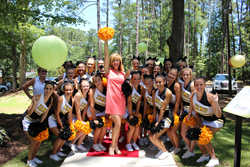 They say you can't go home again – they lied!
Columbia, SC (PRWEB) July 09, 2016
After winning more than $700,000 last year on NBC's Celebrity Apprentice, Leeza Gibbons, the Emmy Award-winning talk show host has honored her pledge to bring her prize money back to her hometown of Irmo, South Carolina, to open Leeza's Care Connection. The flagship location at the Michael J. and Mary Meech Mungo Home celebrated its grand opening on Thursday, July 7, 2016, bringing her work as a health advocate "home."
"They say you can't go home again – they lied," said Gibbons during the grand opening ribbon cutting ceremony at Leeza's Care Connection.
Leeza's Care connection is a nonprofit offering free services to help families facing Alzheimer's and other chronic illnesses. Gibbons launched her foundation 14 years ago, and has since become a leading voice for family caregivers. Leeza's Care Connection is the fulfillment of a promise Gibbons made to her mother, Jean Gibbons, who died of Alzheimer's disease in 2008. Before her passing, she told her mother she would "Tell the story and make it count."
"This was an absolutely dream-come-true homecoming for me," says Gibbons. "I share this with my family and especially my dad whose care for my mother inspired us all. I'm blessed to bring our work to the neighborhood where I grew up."
Truly a sentimental day for Gibbons, among those in attendance were Leeza's family, members of the Mungo family, Lieutenant Governor Henry McMaster, Irmo Mayor Hardy King, Congressmen Chip Huggins and Nathan Ballentine, and Greater Lexington Chamber & Visitors Center President and CEO Otis Rawl, among many others. A former Irmo High School cheerleader herself, Gibbons arrived flanked by Irmo cheerleaders. Pom-pom in hand, it was the ultimate "Throwback Thursday" for Gibbons. Guests also planted flowers in the garden in memory of a loved one.
A team of volunteers and sponsors including Lexington Medical Center, The Michael J. Mungo Foundation, Palmetto Health, Penn Contracting, Southeastern Freight Lines, Benjamin Dover and US Foods helped adapt the 59 year-old historic home fueled by the prize money Leeza earned as champion of Celebrity Apprentice. On the reality show she used her spotlight to shine awareness on the need to support the husbands, wives, sons and daughters who are trying to find an answer to "now what?" when someone they love gets sick or injured.
Leeza's Care Connection is an energetic, uplifting, caregiver-focused center is a one-stop-shop - a place to get educated, find resources, gain confidence, and connect with others on a similar journey, so no one has to feel they are walking this path alone. A safe place for people to share experiences, be heard and to develop the necessary skills to handle the constantly changing demands of caregivers, Leeza's Care Connection provides an environment for family members to care for themselves while caring for another, so both the care provider and the care receiver get the best possible outcome.
At the new location Gibbons introduced several new features including her Care Cafe, Serenity Lounge and Warriors of Wellness program, presented by Lexington Medical Center, where prevention, stress management and soul enrichment are the focus.
The longstanding Leeza's Care Connection program Creative Expression gets a new team member when Leeza's father, Carlos Gibbons, introduces "Pops Poetry Corner" sharing the lifesaving strategies he used while caring for his wife, Leeza's mother. Also, The University of South Carolina, her alma mater, is collaborating with Gibbons on her "Memories Matter" video journaling program.
"It's so meaningful to offer our free services to the friends and neighbors I grew up with," adds Leeza. "Having Daddy and USC involved makes this even more meaningful."
For more information visit http://www.LeezasCareConnection.org.
ABOUT LEEZA'S CARE CONNECTION:
Leeza's Care Connection is the signature program of the Leeza Gibbons Memory Foundation, offering free services, support and programs to family caregivers facing the difficulty challenge of providing care for someone they love with a chronic illness or disease. Our mission is to prepare caregivers for an ever-changing life by providing innovative self-care, wellness programs and resources.