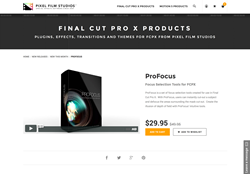 With ProFocus users can instantly cut-out a subject and defocus the areas surrounding the mask cut-out allowing users to get unique looks
Aliso Viejo, California (PRWEB) July 13, 2016
"With ProFocus users can instantly cut-out a subject and defocus the areas surrounding the mask cut-out allowing users to get unique looks," said Christina Austin - CEO of Pixel Film Studios.
ProFocus is a set of tools that allow video editors to create the illusion of racking focus. To use ProFocus, start by selecting the ProFocus tool with the desired focusing duration and place it above media in the Final Cut Pro X timeline. Next, cut-out the subject with the intuitive built-in masking tool. Lastly, use a simple slider to determine the focus amount.
ProFocus features a built-in masking tool that allows users to expertly cut-out subject matter with the click of a mouse. Start by clicking on the screen to create points to surround the subject. Double-click a point to change its interpolation from linear to curved. "Command + Double-click" to delete a point. Double-click the line to add a point. Pixel Film Studios' built-in masking tool makes it easy to get a crispy cut-out.
This Plugin comes with an intuitive panning tool that allows users to quickly move from one point to the next. Select the "Guides" checkbox to activate visual guides that show where the camera will end. Utilize the on-screen controls to animate the camera to its final orientation.
ProFocus is the easiest way to achieve a simple racking focus effect in Final Cut Pro X. Easily cut-subjects out with the built-in masking tool and create slow panning camera movements with the panning tool included.
Established in 2006, Aliso Viejo, California-based Pixel Film Studios is an innovative developer of visual effects tools for the post-production and broadcast community. Their products are integrated with popular non-linear editing and compositing products from Apple FCPX. Apple, the Apple logo, Mac OS X, and Macintosh are registered trademarks of Apple Inc. in the U.S. and/or other countries. All other trademarks and trade names are the property of their respective owners.