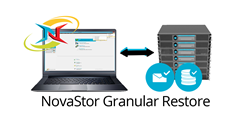 Our new Granular Restore tool makes it easier than ever for NovaBACKUP users to pinpoint specific data, and have it at their fingertips at those times when they need it most.
Agoura Hills, California (PRWEB) July 11, 2016
NovaStor, an international provider of award winning back up solutions, today announced an upgrade to granular restore capability for Microsoft Exchange and Microsoft SQL. NovaBACKUP 18 users now experience an improved restore functionality for single Exchange mailboxes and SQL Databases. This new Granular Restore application is included with the NovaBACKUP Business Essentials software as well as in a forthcoming update to NovaStor's DataCenter network backup solution.
While many backup and recovery solutions do not offer granular level recovery features, charge extra for it or limit the amount of users, NovaBACKUP offers these features at no additional charge. With the Granular Restore tool, IT resellers or IT managers can significantly reduce the time associated with email search and restoration, as well as Microsoft® Exchange Server consolidation and migration.
The Granular Restore tool provides direct access to unmounted database tables and mail store contents, displaying file structure and its contents with selective export functionality. The search tool allows users to be very specific about what pieces of information they want instead of having to export large tables and unnecessary files.
"No matter what industry you're in, data availability is critical and the amount of time spent to retrieve lost data must be minimal." said Mike Andrews, Managing Director at NovaStor. "Our new Granular Restore tool makes it easier than ever for NovaBACKUP users to pinpoint specific data, and have it at their fingertips at those times when they need it most."
Businesses users rely on the data within their critical applications such as Microsoft Outlook. Email communication is the backbone of a business of any size, and affects virtually every aspect of productivity. For most administrators, this means utilizing mailboxes stored on a Microsoft® Exchange Server. Many backup solutions take an all-or-nothing approach to restoring data, but in most cases restoring an entire database to retrieve a single email or note is just not effective or time efficient.
With the new NovaStor Granular Restore application users can recover a specific Exchange mailbox, as well as individual objects such as messages, attachments, contacts and more – in a lot less time than with a database restore. The unprecedented value being offered in the NovaBACKUP Business Essentials and DataCenter affects businesses through improved data availability, reduced restore times, and the capacity for greater productivity.
With Granular Restore businesses and corporations of any size can:

Minimize the time needed to restore individual Exchange messages, mailboxes or entire EDB files – or SharePoint items, lists, libraries, folders and entire sites.
Search and locate specific files faster – even across multiple data sources- then extract those items to a specific location.
Open Outlook PST and OST files
Search, select and export items back into live Exchange mailboxes, or save as PST files
Reduce the time, requirements and bandwidth usage required to access Exchange mail storage and SQL database tables.
About NovaStor
NovaStor® (http://www.novastor.com) is an international provider of powerful, affordable, all-inclusive data-protection solutions for physical and virtual environments. NovaStor provides backup & restore solutions to small and medium business (SMB) as well as heterogeneous environments to protect data on both sides of the cloud. NovaStor's SMB solution NovaBACKUP® is rated #1 for businesses requiring local and remote protection of Windows Servers, VMware, Hyper-V and NAS environments with advanced monitoring capability, detailed reporting, and administration from a centralized monitoring console. NovaStor's network backup solution NovaBACKUP DataCenter brings F500 references, scalability, reliability and speed to heterogeneous environments; a single pane of glass designed to reduce administrative effort and lower TCO. NovaStor' Setup Assistance is an industry first where experts relieve clients from the complexity of installation and support. NovaStor is management-owned with over 1,000 partners, and millions of seats distributed. With global headquarters located in Zug, Switzerland and offices in Germany (Hamburg) and the USA (Agoura Hills), NovaStor is also represented in numerous other countries through partnerships.