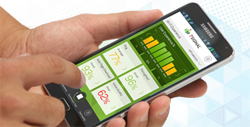 Wi-Fi monitoring and wireless device performance management are emerging as mission critical IT services and an essential part of NPM/APM.
Las Vegas, NV (PRWEB) July 11, 2016
Today at CiscoLive, 7signal, the Wi-Fi Performance Company, announced the general availability of Mobile Eye, an app for smartphones, tablets and kiosks that measures and reports on the end user's Wi-Fi experience. Enterprises may now store Wi-Fi performance data from thousands of mobile devices in 7signal's EyeQ Cloud, then view Wi-Fi Analytics to quickly identify and resolve Wi-Fi performance issues before people complain.
"Wi-Fi monitoring and wireless device performance management are emerging as mission critical IT services and an essential part of NPM/APM," stated Jeff Reedy, President and CEO of 7signal. "Mobile Eye on devices across a global enterprise can save hundreds of hours in troubleshooting expense and thousands of hours in lost productivity due to poor Wi-Fi experiences that can only be found at the device level."
Crowdsourcing the Wi-Fi Experience at CiscoLive
With well over 20,000 attendees, CiscoLive is an annual gathering of network professionals and executives from all over the globe. It aims to deliver education and inspiration for technology innovators worldwide. Utilizing Mobile Eye for iOS and Android devices, 7signal has invited those attending to download the app and crowdsource Wi-Fi performance data. Available in Apple's App Store, as well as on Google Play, attendees report their CiscoLive Wi-Fi experience using 7signal's Mobile Eye app, then visit Booth 1814 to see an aggregate view of the Wi-Fi experience from in and around the venue at Mandalay Bay.
How Mobile Eye Works
Network Administrators create custom test profiles with links and endpoints that represent the essential application servers and web pages that users access with their mobile devices. Enterprise Mobile Management (EMM) is used to distribute the app with the custom test profile to devices across the organization. A series of bi-directional performance tests are run from the device, either on-demand or automatically at periodic intervals specified. The app measures throughput, packet loss, latency and jitter, and benchmarks this data against service level targets set for quality performance and a great Wi-Fi experience. The data is sent to the cloud, where 7signal's EyeQ Dashboard displays the Key Performance Indicators against an organization's Wi-Fi performance targets. Detailed comparisons of device types, software versions and network elements in different parts of the network provide an easy way to ascertain and quickly resolve problem areas.
About 7signal
7signal (http://www.7signal.com) develops cloud-based Wi-Fi performance management software that enables enterprises and service providers to manage the Wi-Fi user experience on their networks, against Wi-Fi performance Service Level Agreements. 7signal sensors and mobile apps collect Wi-Fi performance data across the enterprise and the 7signal analytics engine presents the data as Key Performance Indicators in a browser dashboard, giving network administrators immediate visibility of Wi-Fi health and performance, enterprise-wide. The system enables businesses to significantly improve Wi-Fi baseline performance without adding access points, reduce troubleshooting 80-90%, and lower the total cost of ownership of maintaining reliable, high performance WLANs.