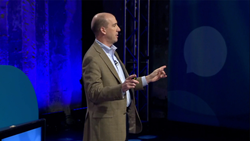 The future of public education is predictably unpredictable.
Chicago, IL (PRWEB) July 14, 2016
According to acclaimed futurist and best-selling author of 11 books, Jack Uldrich, the future of education is "predictably unpredictable."
So how can school leaders prepare for the unpredictable? In his Monday, July 18 keynote for the National School Public Relations Association 2016 National Seminar, Uldrich will share his insights on future trends, emerging technologies, innovation, change management and leadership for audience members attending the event in Chicago, IL.
For all of his audiences, which range from health care, agriculture, education, energy, finance, retail, and manufacturing, Uldrich paints vivid pictures of what the world may look like in just a few short years, and how to leverage the changes to their advantage.
He explores how the Internet of Things, Big Data, social media, robotics, biotechnology, nanotechnology, Artificial Intelligence, deep learning, renewable energy and collaborative consumption will change our lives. He believes Chabot and Blockchain are the most recent game-changers to come on the technological scene.
For the NSPRA he will offer practical solutions specifically for leaders in the field of education with his presentation "The Big AHA: How to Prepare for the Unpredictable."
In addition to authoring 11 books, Uldrich is also an ongoing contributor on emerging technologies and future trends for publications, including The Wall Street Journal, Forbes, Wired Magazine and BusinessWeek.
His most recent book is "Foresight 20/20: A Futurist Explores the Trends Transforming Tomorrow" and his forthcoming book, "Business as Unusual: How to Future-Proof Yourself Against Tomorrow's Transformational Trends, Today" is expected to be released late in 2016.
For parties interested in more information on this event, or Jack Uldrich's upcoming engagements his website may be viewed here.