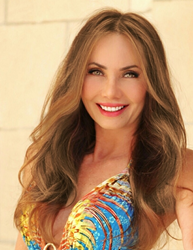 Miami, FL (PRWEB) July 11, 2016
HGTV, Secret Lives of the Super Rich and Million Dollar Listings are popular shows across the globe. Regardless of whether you're in the market to purchase a million or a billion dollar mansion, people want to see luxury estate and dream. In a half hour show, Castle Media LLC and the Real Estate Channel are providing inside tours of listed FL luxury homes.
On each show, one of the owners is a famous sports star, entertainer or business mogul. Home and Castle TV®, a Florida luxury real estate television show and The Real Estate Channel, Canada's largest real estate TV network, are partnering to bring the show to approximately 6M viewers in Canada through the networks: SaskTel, Rogers and Novus.
"I test marketed, 22 episodes of Home and Castle TV in Sarasota Florida on the SNN Network" said creator, producer and host Tia Castle. "The high viewership and feedback was tremendous so I knew I was on the right track of delivering real estate listings with an entertaining flair that a vast audience loves to watch."
Canada's largest real estate TV network, will launch Home and Castle TV® on their 24 hour network October 1, 2016. Host and producer Tia Castle and The Real Estate Channel will broadcast the show throughout all of Canada on Sasktel Channel 995, Rogers Channel 260 and Novus Channel 68.
Home and Castle TV can also be viewed in the greater Miami area on The Beach Channel, Channel 6 and through Atlantic Broadband channel 5 and AT&T U-Verse Channel 19. Producer Tia Castle is expanding into other international markets providing realtors with the opportunity to market their high-end listings. A large presence in China through the web and social media has been established through the Canadian partnership.
"Our audience loves the idea of sitting back and looking at what is out there. Possibly for future purchase or to just dream. We have had demand for more of this type of programming and are excited to be partnering with Castle Media and Tia on this venture," said Matt White GM Real Estate Channel
Luxury real estate agents and developers may contact Tia Castle direct to inquire about video production and advertising opportunities available on Home and Castle TV.
Media Inquiries:
Tia Castle
954.558.2922
info(at)homeandcastletv(dot)com
Please visit http://www.homeandcastletv.com