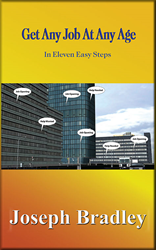 "I give you the exact, 'What, How, and Why' of looking for a job. I think you're smart enough to do the analysis yourself."
Los Angeles, California (PRWEB) July 12, 2016
Not since before the Great Recession of 2008 has there been a better time to go after and get that great job.
According to the Bureau of Labor Statistics, the unemployment rate in 2007 was about 4.6%. The economy was great, America had a big surplus of money and jobs were secure. In 2008, everything changed. The surplus was gone. Confidence in the economy was shredding and companies were starting to see huge cutbacks in sales. Then companies started laying off workers in droves. By 2009 the unemployment rate had climbed to 10%. And for the next four years it maintained a rate between 8% and 9%.
In 2013, the economy finally stopped bleeding and the Multi-Trillion dollar deficit finally started to shrink. Slowly, consumer confidence came back. Then the jobs started to come back. It has taken another three years to get there but, today the unemployment rate is back under 5%.
Now, not only are jobs constantly being added but companies are once again looking to hire great people away from other companies. This is where Joseph Bradley's book steps in. Get Any Job At Any Age In Eleven Easy Steps is a true guide to helping to get the job you want. So, what makes this self-help guidebook any better than all the others? NO FLUFF! As the author, Joseph Bradley states, "I give you the exact "What, How, and Why" of looking for a job. I think you're smart enough to do the analysis yourself".
Look at any self-help guidebook and it is full of analysis and rhetoric with the author saying the same thing at least three different times in slightly different ways. This can create a 300 plus page book that can take days to read. This book, on the other hand, is only about 50 pages and can be read in about an hour. It gives what is really needed and not one thing more. Which is perfect for the career seeker who is serious about getting the job they really want. So check it out.
Joseph Bradley is a writer and an advocate for Seniors rights to work. One chapter in this book is dedicated to helping Seniors prepare to go back to work.
For more information about Get Any Job At Any Age In Eleven Easy Steps go to http://www.getanyjobatanyage.com.
Sold through Amazon book stores in Kindle e-book form and in print. https://www.amazon.com/