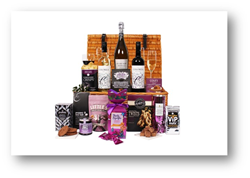 We are confident that all nineteen gifts and hampers are offering the best value for money in the marketplace and with a price range from £20 up to £170 we believe we have covered the corporate gifting market
(PRWEB UK) 12 July 2016
Alexir Brands is excited to reveal their newest line of hampers and gifts, perfectly suited for corporate gifting. It has taken since the beginning of this year to co-ordinate and design the nineteen hampers that form the Todhunter Christmas Collection 2016.
Alexir Brands, based in the heart of the beautiful Sussex countryside, already supply the luxury Todhunter hampers and gifts to both the wholesale and retail sectors with an outstanding level of quality and customer service. The Todhunter brand was founded in 2007, born out of a family name and a long-established traditional hamper brand. All the hampers and baskets are made using artisan crafts and techniques that have been handed down from generation to generation. The hand weaving and finishing is still carried out by skilled craftsmen. At Todhunter they pride themselves on the high quality and enduring characteristics of the wicker, which comes from the superior full-fall willow. They source all the willow from trusted partners and regularly meet with craftsmen and their families who take enormous pride in their skilled workmanship. This expertise ensures that they maintain the highest standards and the most reliable supply chain in the gifting industry.
The Todhunter Christmas Collection has been created specifically to meet the needs and requirements of their customers, resulting in a unique and luxurious selection of gifts. The Alexir Partnership are offering their range of hampers to valued customers and suppliers with an Early Bird Offer running in conjunction with the Monty Bojangles luxury chocolate brand. There will be separate promotions running on social media for existing Alexir Brands customers. The Christmas Collection 2016 is now available to pre-order at http://www.giftsandhampers.com or call 01825 700897 to discuss your requirements.
Alex Maynard, Brand Manager at Alexir Brands said, "It has been an incredibly busy time for us planning and producing this exciting range for Christmas. We are confident that all our gifts and hampers are offering the best value for money in the marketplace and with a price range from £20 up to £170 we believe we have covered the corporate gifting market".
About the Alexir Partnership
The Alexir Partnership is always pushing forward and leads the way in innovation in the food packaging industry. Not only do they manufacture over 250 million cartons a year but they also have a specialist department with staff in both the UK and China providing strategic global sourcing to help clients meet their ever-changing packaging needs. In addition, Alexir also run a highly successful food co-manufacturing plant making them a unique 'design to delivery' packaging provider. Alexir Brands is a brand and retail focused product development team based at the co-manufacturing site in Sussex. They work on behalf of their own brands as well as joint partnership brands to develop and deliver new and exciting products.
For more information contact:
Alexir Brands on 01825 700897
http://www.giftsandhampers.com
http://www.alexir.co.uk/brands/