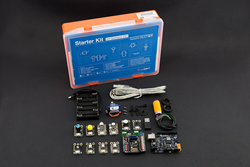 The Best Arduino Kit
(PRWEB) July 13, 2016
Back in October 2015, Intel and Arduino announced the jointly developed Arduino 101 (Genuino 101 outside of the USA), an Arduino UNO compatible board based on the tiny, low-power Intel Curie module. The Arduino 101 has extra features built right in to the board, such as gesture recognition and Bluetooth connectivity. It was developed to provide the maker community with an affordable learning and development platform ideal for entry-level makers and educational environments.
There is no doubt that Genuino/Arduino 101 is a product worth-buying, but to use it to its full potential newcomers to electronics need tutorials and guides to learn and play with it. This motivated DFRobot to develop the Gravity starter kit for Genuino/Arduino 101.
The Gravity starter kit for Genuino/Arduino 101 focuses on the STEM and maker education. Not only does the kit for Genuino/Arduino 101 include a wide range of plug and play components; it also comes with a set of step-by-step tutorials developed by the DFRobot R&D team. Tutorials cover basics such as installing Arduino IDE and making an LED blink on and off. With this you can work your way up to more complex projects like building your own Weather Station. Every feature of the hardware is covered in these tutorials, even Bluetooth communication and gesture recognition! Tutorials are full color with pictures and diagrams so anyone can build their own project without any difficulty.
A range of DFRobot's most popular component modules are included, as well as a plug and play I/O expansion shield, allowing users to build various interactive projects without using breadboards or jumper wires thanks to DFRobot's 3 Pin "Gravity"interface. Different types of sensors can be easily identified by the logo printed on the back. All components included in the kit are also fully compatible with Arduino microcontrollers. With the gravity starter kit for Genuino/Arduino 101, building your own project will be as simple as stacking blocks.
After making all the projects, users are free to develop higher level applications and experiment with IoT (Internet of Things) projects, wearables and other diminutive gadgets.The kit is your first step to a larger world of electronics!
About DFRobot
DFRobot is a robotics and open source hardware provider that is dedicated to creating innovative, user-friendly products that foster a strong community of learning. DFRobot collaborates with multiple tech giants including Intel and Microsoft and has a product catalog boasting over 1,000 components and widgets including sensors, robotic platforms, communication modules and 3D printers. DFRobot is one of the early evangelists of the Maker Movement and strongly supports greater access to the maker culture.
DFRobot is headquartered in Shanghai, China. For more information visit DFRobot.