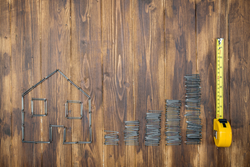 "With interest rates at record lows," said Dave Tucker, C.E.O. of Sedgewick Homes, "prices will never be more favorable."
Statesville, NC (PRWEB) July 12, 2016
In the thick of rising national home prices, Sedgewick Homes is prepared to educate potential clients on why there is no better time to build.
Homebuilding companies like Sedgewick Homes know that people tend to hold back on spending during election years. Recently, the industry has seen a national increase in home prices of about 1.3% from April 2016 to May 2016, and between May 2015 and May 2016, the industry has seen hikes to the tune of 5.9%.
These increases would have a detrimental effect for the average homebuilding client. Efforts made by Sedgewick homes to not just keep costs low, but to even decrease the prices of many of their two-story models includes returning to their major suppliers for answers. Working with the suppliers that have supported the company since its inception is how they plan to overcome industry-wide increases.
The end goal is not just making the homebuilding process feasible. Sedgewick Homes is looking to be an anchor of stability for clients among a sea of unsound national options. As a result of their efforts, many of their two-story homes are experiencing a massive price decrease—for some, as much as $10,000.
"With interest rates at record lows," said Dave Tucker, C.E.O. of Sedgewick Homes, "prices will never be more favorable."
The homes that Sedgewick is offering a price reduction on are fully customizable and have available features for families of all sizes. Ranging from 1100 square feet to just under 3000 square feet, these homes are all two stories and can be tailored to suit specific needs, which Sedgewick Homes agents are happy to accommodate for each and every client.
In the midst of an otherwise difficult situation for homebuilders everywhere, Sedgewick Homes encourages the public to ask only one question: Why put off tomorrow what you can build today?
About Sedgewick Homes:
Sedgewick Homes is a custom home builder with convenient locations across North Carolina. In order to serve customers throughout the region, they have three locations where future homeowners can build their custom dream home: Hamptonville, Salisbury, and Pinebluff.
Contact:
Matt Evans, VP – Business Development
Sedgewick Homes, LLC
(877) 358-9199
mevans(at)sedgewickhomes.com
http://www.sedgewickhomes.com